Local Fire Station 36 Welcomes New Captain
February 1, 2009
/
/
Comments Off

on Local Fire Station 36 Welcomes New Captain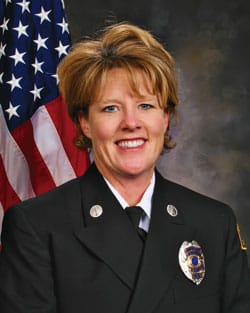 Captain Susan Chesnick recently took over as the new station commander at South Metro Fire Rescue fire station 36 in CPN.

Information provided by South Metro Fire Rescue Authority
In January, Captain Susan Chesnick took over as the new station commander at fire station 36 in Castle Pines North. A 21-year veteran of the fire service, Chesnick started her career as a volunteer firefighter with Wheatridge Fire, and after four years joined the Cunningham Fire Protection District. She became a paramedic in 1988 and joined Parker Fire in 1994.
Since May of last year, Chesnick has been working as part of the transition team on the merger of Parker Fire and South Metro Fire Rescue, now the South Metro Fire Rescue Authority.
Captain Chesnick said she is looking forward to serving the station 36 area because its makeup will generate a variety of call types. "It's mostly residential, with some commercial areas, and there will be calls on the highway as well as the potential for wildland fire calls," Chesnick said.
Captain Chesnick invites residents to stop by the station, located at 421 East Castle Pines Parkway, and say hello and to see the station. "I also want the public to know that the station is a safe place that they can come to if they ever have a need to," she added.
All the fire authority stations are getting some new personnel beginning in January, as crews from the two agencies are mixed into one combined personnel structure.