Lucky dog – a delicious treat for St. Patrick's Day
March 1, 2023
/
/
Comments Off

on Lucky dog – a delicious treat for St. Patrick's Day
As far as I can tell, I don't have a single drop of Irish blood. This month, though, everyone is a little bit Irish, right? In anticipation of the 17th of this month, I've got a green outfit chosen, cereal with everyone's favorite leprechaun on the box in the pantry, and even a corned beef in the fridge, ready to be slow cooked. Every year about this time, I try a new Irish kitchen creation – shepherd's pie (delicious and fun baked in muffin tins for neat, individual servings), colcannon (buttery mashed potatoes with kale), and even Rice Krispies treats with Lucky Charms marshmallows for a fun, end-of-the rainbow end to a meal.
I've been writing this column for some time now, so several of my March creations have graced these pages. One of the easiest, tastiest, and most popular recipes was for Irish soda bread. A decade ago, I extolled the virtues of this quick bread as an easy way to round out a meal of Irish stew without the hassle and time of a traditional yeasted bread. Instead of kneading and rising, this bread gets its lift from a combination of buttermilk and baking soda. In less than an hour, the bread is mixed, baked, cooled, and ready to be slathered in rich Irish butter.
This month, I decided to revisit this recipe. When it first appeared, several readers let me know they had tried it in their own kitchens to great success. In my original version, I suggested an optional addition of raisins to the dough for a sweet pop of flavor. Some of my "testers" left the raisins out and reported that the bread made a great stand-in for cornbread with chili. Another friend omitted the sugar and added chopped green onion and cheddar for a savory loaf. In every case, bakers mentioned the ease with which the bread came together – a perfect recipe for a novice baker who is looking for something delicious. As an added bonus, it is likely that most of these ingredients are already in the pantry and refrigerator.
Since I first published the recipe, I've learned that soda bread studded with raisins is affectionately referred to as "spotted dog." I've attempted to fancy this dog up by subbing chopped dried cherries and apricots for the raisins to give it a new flavor profile. Other than that, this recipe couldn't be simpler. A quick whisk of the dry ingredients, the addition of the wet ingredients and just enough stirring to bring everything together is all it takes. The loaf is charmingly irregular – a simple disk on a baking sheet. The hardest part is waiting for it to cool slightly so it stays intact for serving.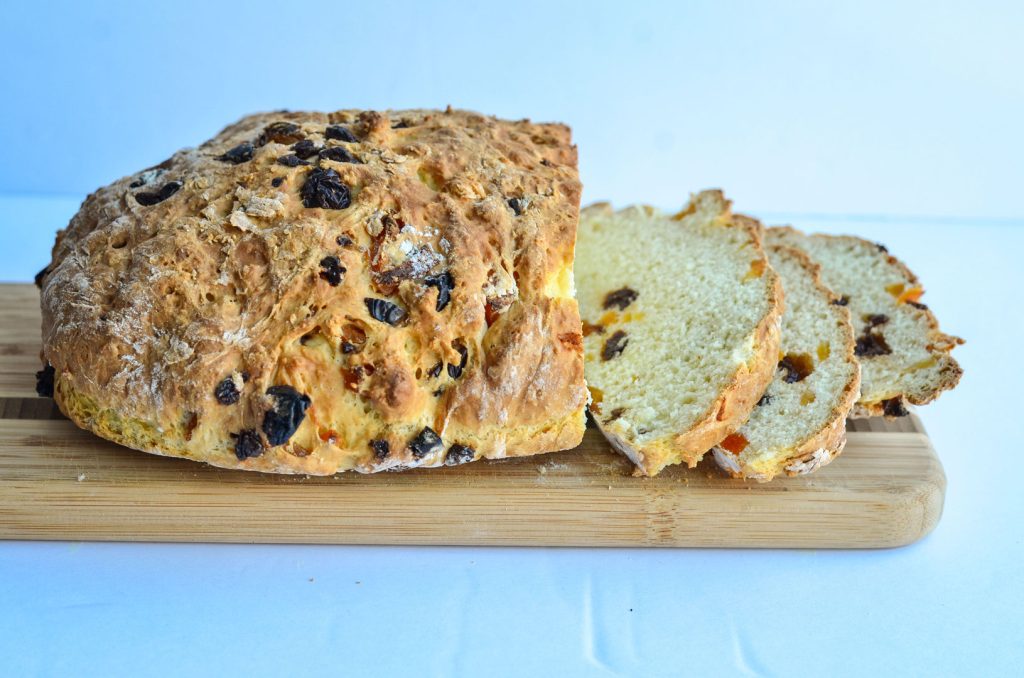 If you happen to have any bread left over (and you might, as it makes a fairly large loaf), this bread makes excellent toast. A crispy slice alongside the breakfast beverage of your choice will make you feel very lucky indeed.
Spotted Dog with Cherries
and Apricots
4 cups all-purpose flour
1 ¼ teaspoon baking soda
1 teaspoon salt
2 tablespoons sugar
1 egg
1 ¾ cup buttermilk
½ cup dried cherries, chopped
½ cup dried apricots, chopped
Preheat the oven to 425. In a large bowl, whisk the flour, soda, salt and sugar until well combined. In a separate bowl, whisk together the egg and buttermilk, then stir into the dry ingredients with a spatula until just combined and a shaggy dough has formed (all the flour should be incorporated), then stir in the dried fruit. Flour a work surface and put the dough on it. Using your hands, shape the dough into a disk that is about an inch and a half tall and about nine inches across. Carefully transfer the dough to a parchment-lined baking sheet and place in the oven. As soon as the bread goes in the oven, turn the heat down to 400 and bake for about 35 minutes, or until the loaf is browned completely.
Cool for about half an hour before serving.

Article and photos by Lisa Crockett