Making music and memories moonlighting as a DJ
March 1, 2013
/
/
Comments Off

on Making music and memories moonlighting as a DJ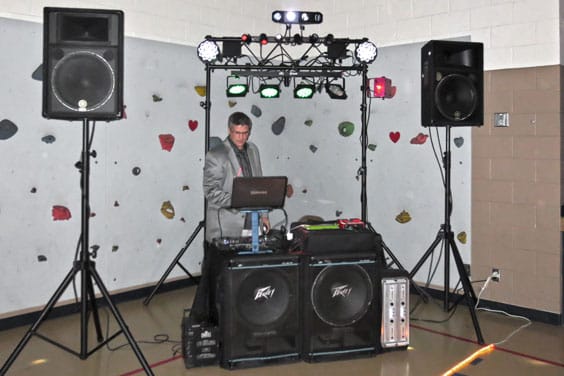 Mike Howell, aka Denver DJ Daddy, provides mobile DJ services for a variety of special occasions and venues.
By Elizabeth Wood West; photo courtesy of Mike Howell
Few of us are able to pursue the things we enjoyed in our youth once we reach adulthood. Software salesman and Castle Pines resident Mike Howell is one of those fortunate few.
Howell, aka "Denver DJ Daddy," has a side mobile disc jockey business that goes beyond simply providing music at a special event. "Seeing the people react to the music, the lights, and interacting with me is magical when it all comes together and is a feeling you never want to give up. I want customers that are not just pleased, but ecstatic at the end of the night. The DJ in me has only come about in the past four years or so and I feel that I have truly found a way to help others enjoy their precious occasions," Howell said.
Howell grew up around music – playing guitar at an early age, entering the high school talent shows, and playing in a band. "I always gravitated more toward sound reinforcement and the science behind it. While my band mates wanted to write original songs and make studio recordings, I always wanted to play disco, funk, and hip hop songs to which people could relate and dance to," said Howell.
Howell and his wife Tina settled with their two children, Juliana and Antonio, in Castle Pines a few years ago. Howell said, "We love the community and have made quite a lot of lifelong friends. We could not be happier with the community, the school system, and the beauty."
Howell's DJ services include a high quality sound system (with back-up), lights, emcee services, and a customized music program that will complement any venue. "A lot of these new DJ programs and software just go into automatic playlist mode without the truly professional DJ input of real-time beat mixing and reacting to what is going on with the occasion as a whole," explained Howell.
Howell's personal taste ranges from the classics – The Beatles, Rolling Stones – to Lady Gaga and Bruno Mars, and his favorite – disco. "It never ceases to amaze me how much the oldies creep back into mainstream. 'YMCA' is always requested and is always well received. My least favorite? 'Chicken Dance'!" Howell joked. For more information, contact Mike Howell by e-mail mike@denverdjdaddy.com, Facebook at facebook@denverdjdaddy.com, or call 720-221-4721.