Mid-October is time to start reviewing Medicare health and prescription drug plans
October 1, 2017
/
/
Comments Off

on Mid-October is time to start reviewing Medicare health and prescription drug plans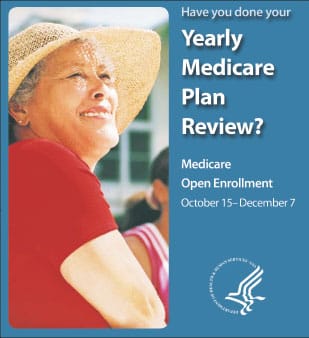 Information provided by the Centers for Medicare and Medicaid Services
Each year, there are new health plans and prescription drug coverage choices. For individuals who currently have a Medicare plan, it is important to review your current health and prescription drug coverage each fall, and make sure that your plan is still right for you. You should have received the Medicare & You 2017 handbook in September that you can review. The handbook is also available online at Medicare.gov.
Plans do change from year to year, so during open enrollment, which is October 15 through December 7, you can review and make changes to your supplemental health and prescription drug plans for the next year. Be sure to look over your Medicare Advantage and Part D plans every open enrollment. If you are already in a Medicare Advantage Plan, you can use open enrollment to switch back to Original Medicare.
If you signed up for your supplement health and prescription drug plans with an insurance broker or insurance company you can contact them to go over your coverage, or you can contact Medicare online, in person, or on the phone. Visit www.medicare.gov or call 1-800-633-4227. TTY is 1-877-486-2048.
If you have limited income and resources, you may qualify for "extra help" to pay your prescription drug costs. Visit socialsecurity.gov/i1020 to apply online. Or, call Social Security at 1-800-772-1213 and ask for form SSA-i1020.
The 2016 Medicare Review Plan brochure can be found at www.medicare.gov/Pubs/pdf/11220-Yearly-Medicare-Plan-Review.pdf. It has not been updated for 2017 but it does have a lot of useful current information.