Mother's Day Smile Makeover Winner has Something New to Smile About
August 1, 2006
/
/
Comments Off

on Mother's Day Smile Makeover Winner has Something New to Smile About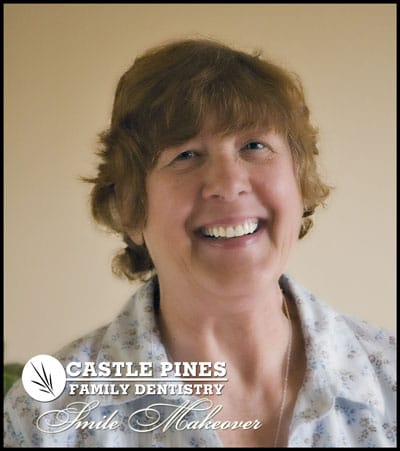 Smile Makeover Winner Mary LaPorte

by Terri Wiebold
Sixty-three year old Mary LaPorte is smiling a lot these days after winning a Mother's Day Smile Makeover contest in May from Castle Pines North Family Dentistry. Of the 25 entries submitted for the contest, Drs. Jeff and Stephanie Scheich selected LaPorte after reading the nomination her husband, John, secretly sent in without his wife's knowledge.
"John nominated Mary because she has spent most of her life caring for others and has always put herself last," said Jeff Scheich. "After meeting and getting to know Mary, we felt that she was the perfect candidate to receive a Mother's Day Smile Makeover."
LaPorte's procedures included teeth bleaching with Radiance Tooth Whitening, alignment correction using porcelain veneers and crowns, and reshaping and capping several protruding teeth. The entire process from
start to finish consisted of four appointments, totally about $6,000 in dental work.
"I would have never thought to spend that kind of money on fixing my teeth," said LaPorte, "but I absolutely love the result." When asked about the kind of reaction she has been getting from people who did not know she was having the procedures done, LaPorte said, "They (Drs. Jeff & Stephanie) did such a wonderful job and my teeth look so natural, it is not obvious I have had work done. Friends just comment that I seem to smile a bit more these days."
To learn more about LaPorte's procedures or to see pictures of her amazing transformation, visit
www.castlepinesfamilydentistry.com.