Neighborhood florist provides artistic creations for special events
June 1, 2009
/
/
Comments Off

on Neighborhood florist provides artistic creations for special events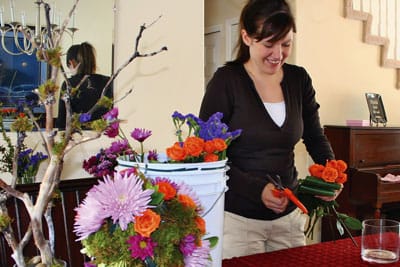 Annie Aubert creates unique works of art with flowers, fabrics, structures and lighting out of her HOA1 home in CPN.
Article and photo by Carin R. Kirkegaard
Castle Pines North resident Annie Aubert is a local florist and owner of Designs by Ann. Aubert decorates for special events by creating unique artistic works of art with flowers, fabrics, structures and lighting.
For the past 11 years, Aubert has been arranging flowers for special events. She does everything from large weddings where thousands of dollars are spent on the flowers alone to small intimate weddings. She also has customers who hire her to create decorations for baby showers and special birthdays. The one stipulation is that she will only book one event a week.
"I want to give my clients one hundred percent of my unlimited services," said Aubert.
Aubert has always had a passion for expressing herself artistically. When she began her college career at Colorado State University she started as a Fine Art major, but along her journey she decided to include a broader area of study and delved into business and communications. Aubert also discovered the symbiosis of her art and flowers while working at a local flower shop in between classes.
The creation of pillars and swaths of fabric that add to the unique stylings of Aubert's work she credits to her childhood. With a seamstress for a mother, Aubert was sewing at a young age, but she also spent many hours outside woodworking on their family ranch.
After working full time outside of the home with a well-known florist in Denver, Aubert decided to move her work home with the birth of her daughter. Now she creates her masterpieces with the help of her four-month old daughter tucked in a baby sling as she runs up and down stairs in her HOA1 home.
For more information or to book an event with Design by Ann, contact Aubert at 720-530-5667, or via e-mail at Contact by e-mail . To learn more, visit the web site at www.designbyann.com.