Neighborhood youth celebrate the season of giving
November 1, 2016
/
/
Comments Off

on Neighborhood youth celebrate the season of giving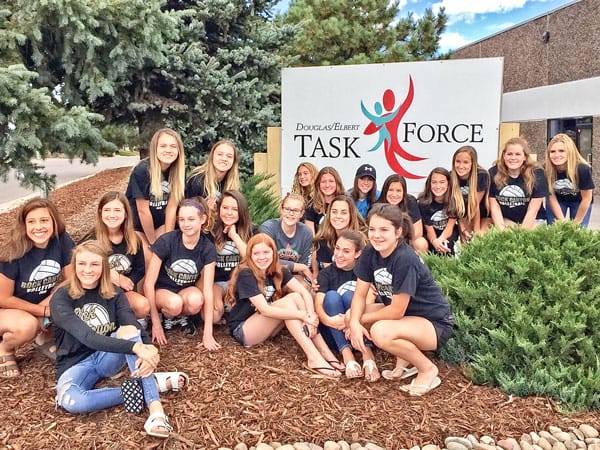 The Rock Canyon High School volleyball program recently collected and donated many items, including food and toiletries, to the Douglas/Elbert Task Force. The team was given a tour of the Task Force and have a better understanding of the many needs in our community.

By Sarah Bermingham, RCHS intern writer; photos courtesy of RCHS volleyball
Families and individuals all over the world do not have enough food. Most of the Castle Pines community are very privileged and have food, clothing and other necessities to spare, but there are people in the Castle Pines community that go hungry, too. Everyone deserves to have enough, especially during the holidays. Anyone can help the less fortunate, and there are many ways to do that in the area.
Fresh Harvest Food Bank is a nonprofit organization located in Lone Tree whose goal is "to provide nutrition, support and education to families in need throughout Douglas County and surrounding areas," according to its website. Fresh Harvest collects things from pantry items to school supplies and also depends on monetary donations and volunteers. For more information, visit http://freshharvestfoodbank.org.
The Douglas/Elbert Task Force is another option. Their office is located in Castle Rock, but they serve people throughout Douglas County, including Castle Pines. They have a food bank, as well as a thrift store. In 2015 alone, the Task Force distributed 600,467 pounds of food, according to its website. They accept food, toiletries, household items and other items. Donations and volunteers are welcomed. For more information, visit https://www.detaskforce.org.
Living Way Fellowship is a church organization in Highlands Ranch. They open a food bank every first and fourth Tuesday of the month. For additional information visit http://www.livingwayfellowship.org/. Local churches and schools are great places to donate food and other needed items. It is easy and simple to bring goods to school during a drive. If there isn't a drive in the area, see if you can start a food or clothing drive at school or work.
King Soopers is another easy option. They are partnered with Bringing Hope to the Table along with all other Kroger companies. Anyone can donate to this cause conveniently while grocery shopping, and it helps a lot of people.
As a community, we can help those who need food and other necessities. It is our responsibility to help others, especially when we have so much to give. Every little bit helps, so try donating to others this month so they can celebrate too.