New eight-mile section of the East/West Regional Trail will connect Lone Tree to Parker
November 1, 2016
/
/
Comments Off

on New eight-mile section of the East/West Regional Trail will connect Lone Tree to Parker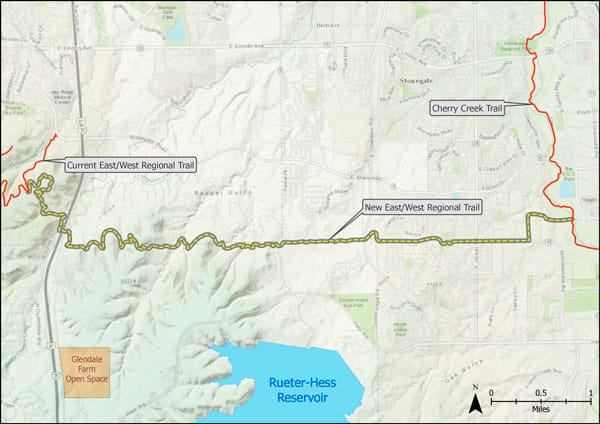 A new eight-mile segment of the East/West Regional Trail just north of Hess Road will connect the current trial (west of I-25, south of RidgeGate Pkwy) to the Cherry Creek Trail in Parker (west of Parker Road south of E. Mainstreet).

Information and photo provided by Douglas County

Hikers, equestrians and mountain bikers rejoice! Great Outdoors Colorado (GOCO) just awarded a $2 million grant to Douglas County and the Town of Parker to construct a section of the East/West Regional Trail that will connect the City of Lone Tree to the Town of Parker. The project is currently in design, with construction slated for 2017 and 2018.
The new eight-mile segment marks the final phase in a 28-mile construction project that began in 2002 with a collaboration that includes Douglas County, the City of Lone Tree and the Town of Parker.
"This is yet another remarkable example of what can be achieved when common ground leads us to problem-solve and create solutions through community partnerships on behalf of those we serve," said David Weaver, chair, board of Douglas County Commissioners.
The new trail segment will finish the connection between Redstone Community Park in Highlands Ranch and the Cherry Creek Regional Trail in the Town of Parker through an off-street trail system, serving as a commuter and recreational connection for the entire region.
Pedestrians, bikers and equestrians will enjoy rural landscapes, wildlife and scenic views, as well as open space, parks and natural areas along the trail route, which includes natural and hard surfaces.
The route will also be a major component in a multi-entity vision of completing a continuous loop trail around the outer edges of the Denver metro area and part of a much larger statewide system that, in the future, could create a connection from the Denver metro area to Durango. The grant is part of GOCO's first round of funding for its new Connect Initiative awarded to close critical gaps in trail networks across the state.