Pink Tie Guy provides comfort and support
April 1, 2018
/
/
Comments Off

on Pink Tie Guy provides comfort and support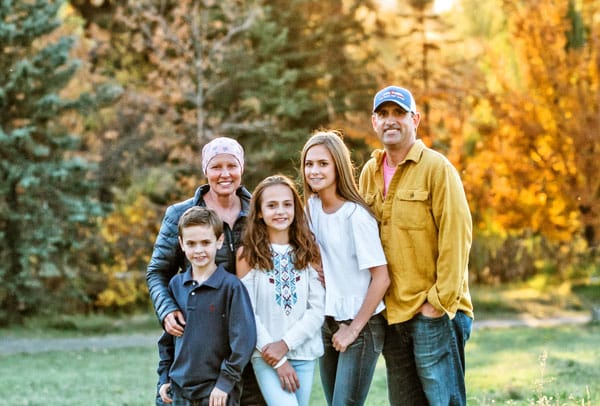 Brandon and Lisa Linn and their children, Kennedy, Harper and Cooper in a family photo taken after Lisa had been diagnosed with triple negative breast cancer. Lisa nominated her husband Brandon to be a 2018 Pink Tie Guy at the Susan G. Komen Pink Tie Affair.


By Lisa Nicklanovich; photos courtesy of the Linn family and Highway4Photography
Brandon Linn of Green Briar had no idea his wife Lisa had nominated him to be a 2018 Pink Tie Guy as part of the Susan G. Komen Pink Tie Affair Colorado, a fundraiser that honors men who are leaders in their communities whose lives have been touched by cancer. Brandon was told he would need a tuxedo and a pink tie, of course, for the February 9 event after Lisa learned that her essay had been one of only nine selected from all of the Colorado submissions.
In her essay, Lisa explained how when she was diagnosed with triple negative breast cancer at the end of last May, it was very aggressive, so they had to schedule doctor visits immediately. "Brandon and I worked as a team. Despite his busy schedule as an orthodontist, he went to every doctor appointment with me to find the right doctors. He went to every single chemo appointment with me and sat by my side as I was sick as a dog after every appointment." Lisa thinks her essay was chosen because "I put my heart out there when I wrote it."
"Brandon tells me on a daily basis, several times a day, and without any prompting that I look beautiful. Losing my hair, eyelashes and eyebrows have been incredibly hard. You feel horrible about yourself. It's been very difficult trying to figure out who the new me is now looking like this, but when Brandon tells me I look beautiful I believe him for a few minutes," Lisa wrote in her essay. In response, Brandon exclaimed, "It's true!"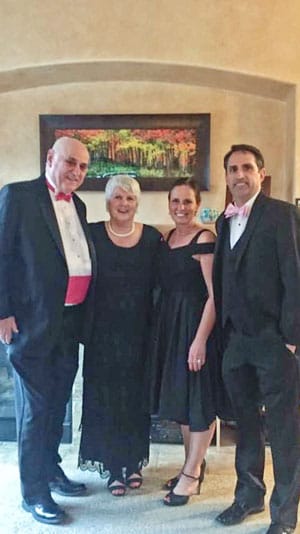 Brandon and Lisa Linn (on right) with Brandon's parents, Bob and Fleury Linn before heading to the Susan G. Komen Pink Tie Affair on February 9. Brandon was one of nine Pink Tie Guys honored at the event. Brandon's parents lived with Brandon and Lisa during her cancer treatment and surprised them by joining them for the event.

The Linns have lived in Castle Pines for 13 years and have three children, Kennedy (14), Harper (12) and Cooper (9). The family was overwhelmed with the support that came from the community. Lisa said, "I have never experienced so much love. Between the meals, gifts, help with our kids, it was amazing." When the Linns arrived home from Lisa's last chemo treatment, they found their lawn covered in pink posters with good wishes.
As a 2018 Pink Tie Guy, Brandon said his only advice to anyone going through a similar situation is to "Just stay in the moment, be present and hang in there." Lisa received a clean bill of health in December, but she still has a few more surgeries to go and consistent check-ups going forward. The oncologist the Linns initially met with said that if Lisa had put her mammogram off, they would have been having an entirely different conversation about her diagnosis and treatment. Lisa added, "Please go get your mammogram!"