RCHS artists shine at nationwide art competition
June 1, 2013
/
/
Comments Off

on RCHS artists shine at nationwide art competition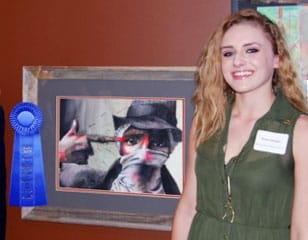 Tessa Johnson with her first place artwork titled, "A Broken Society." (Photo courtesy of Todd Johnson).
By Lisa Nicklanovich; courtesy photos
The Colorado Sixth Congressional District High School Art Competition and Exhibit, "An Artistic Discovery" took place April 27 at Congressman Mike Coffman's office in Aurora. The competition, which takes place every spring, is sponsored by the Congressional Art Caucus in Washington, D.C. and is an opportunity to recognize and encourage the artistic talent in the nation, as well as in our congressional district. Rock Canyon High School (RCHS) students captured three of the four awards in the competition.
Tessa Johnson (junior), was awarded first place for her watercolor work titled "A Broken Society" and Ariea Xu (junior), took second place with a pencil drawing titled "Last Bus to Nowhere."
Chad Hayward received the senior award for his watercolor piece, which was based on a photo he took of a man at a park. Hayward received a RMCAD scholarship from the Rocky Mountain College of Art and Design and his artwork will be traveling to the U.S. Capitol in Washington, D.C. and displayed in the congressional office for the next year. Hayward also received two Southwest airline tickets to D.C. to attend a reception for all contest winners in July.
Judging was done by artist Ellie Ludvigsen, president of the Greater Castle Rock Art Guild. Drew Walter, art teacher at RCHS, said, "I feel very fortunate to have such talented students in my classroom and to have three students win awards in this competition is amazing. It's a great honor to win the competition and another to have your artwork represent the state of Colorado among art from across the country. The students bring passion, dedication, enthusiasm and the desire to be the best they can be to my classroom. It's a pleasure to watch these young artists create and shine."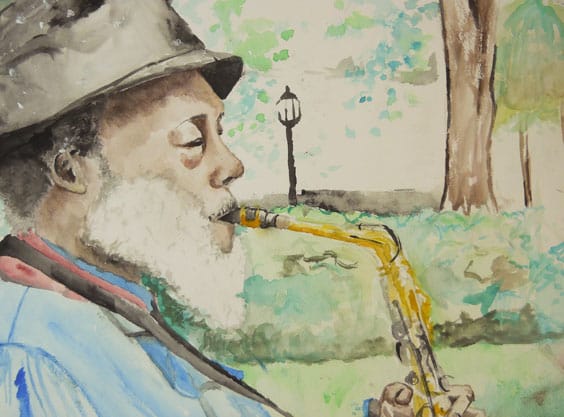 Chad Hayward's watercolor piece, which earned him the senior award, a
scholarship, and a trip to the capitol in D.C. in July, where his art
will be displayed for a year. (Photo courtesy of Drew Walter).