Renaissance ELOB magnet school has two upcoming "Life is Art" events
March 1, 2013
/
/
Comments Off

on Renaissance ELOB magnet school has two upcoming "Life is Art" events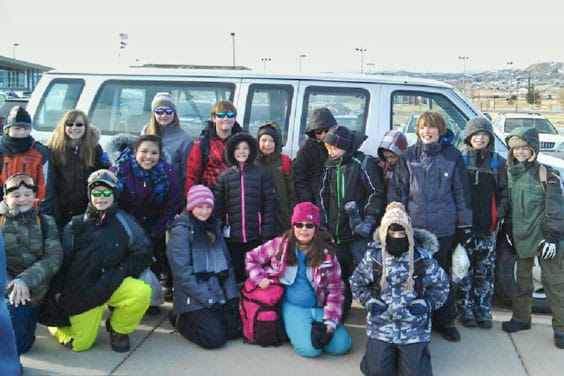 Sixth grade REMS students about to leave for an adventure at Cameron Pass.
By Lisa Nicklanovich; photo courtesy of Rita Klement
The Klement, Goodman, Lewis and Kadlacek families of Castle Pines all have children attending The Renaissance Expeditionary Learning and Outward Bound Magnet School (REMS) in Castle Rock. Rita Klement of BriarCliff has two children currently attending REMS and is the PTO president. Klement is passionate about the program and Douglas County public schools. She said, "There's a foundation of character traits at REMS, a culture where students are expected and challenged to be leaders, and a deep sense of collaboration and connectedness among the students and the community."
REMS has more than 400 students and a kindergarten through sixth grade curriculum. Klement's eldest child graduated from REMS and had a smooth transition to Rocky Heights Middle School in seventh grade. Klement credits the purposeful and rigorous curriculum at REMS for his success and leadership awards in middle school. She draws on one example – a first grade learning expedition on the concept of family in China. "Students make Chinese dragons in art, learn to write Chinese characters, play with traditional Chinese toys, and visit the Chinese Cultural Center, Chinese market and a Chinese restaurant. Students conduct 'field work' and study in-depth. The students then come together back in the classroom to analyze and discuss what they learned."
REMS works with several outdoor adventure schools to provide students with challenges outside the classroom that foster independence and confidence, living up to the school motto, "We are crew … not passengers."
REMS has two upcoming events: Life is Art: Artists' Edition is a showcase of the arts on March 6 from 4 p.m. to 7 p.m. at REMS, located at 3960 Trail Boss Lane in Castle Rock. Choir, band, and orchestra each have short performances. The event is free and the community is welcome to attend and be inspired by these young artists and their surprising talents.
Life is Art, the 3rd annual benefit for REMS, is an adult-only event on March 16 from 6:30 p.m. to 10:00 p.m. at The Grange at the Meadows. Enjoy an evening of music, food, cocktails, auction and a celebration of art within our community, including locally featured live artists. For more information on this event, visit www.remslifeisart.wordpress.com.
For more information about REMS, visit www.sites.google.com/a/dcsdk12.org/rems.