RHMS cross country team goes to State Championships
December 1, 2015
/
/
Comments Off

on RHMS cross country team goes to State Championships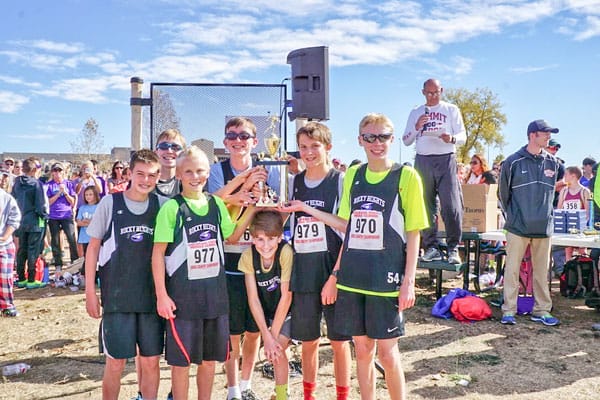 By Lynne Marsala Basche; photo courtesy of Mira Brand
The Rocky Heights Middle School (RHMS) cross country team ended its impressive season with an exciting showing at the State Championships in Denver. While this was the Nighthawk's first time at State, and it will likely not be the last.
Technically, the RHMS cross country season ended in September after the Nighthawks captured the second overall placement, as well as individual and team wins at the Douglas County Cross Country District Championships. However, 20 runners were so intent on keeping the season going that they created a new running club at school, and of those kids, 14 competed at State.
At the State Championships, 73 middle schools participated, and there were approximately 1,600 runners. State consisted of boys and girls open races, as well as the championship race, and the Nighthawks outran several schools with established running programs.
Emily Glynn took fifth overall in the girls championship race. The boys varsity team, consisting of Derek Fearon, Carter Brand, Jack Hibbett, Kyle Harmon, Trevor Fearon, Caleb Jaramillo and Wesley Beckham, won third place overall.
The Nighthawks had support from family and friends, as well as from their principal, Dr. Jason Sears and the Rock Canyon varsity cross country teams. Runner Kyle Harmon said, "Being on the cross country team for Rocky Heights Middle School was an amazing experience. Everybody on the team pushed each other to their limits, and when we took third at State, it was a huge accomplishment that I will always remember!"
Now that cross country is officially over for the season, running club coach Cari Thompson hopes to continue the club in the spring, so the runners can get a jump start on training and getting back into shape.