Rock Canyon High School Wish Week makes dreams come true
May 28, 2023
/
/
Comments Off

on Rock Canyon High School Wish Week makes dreams come true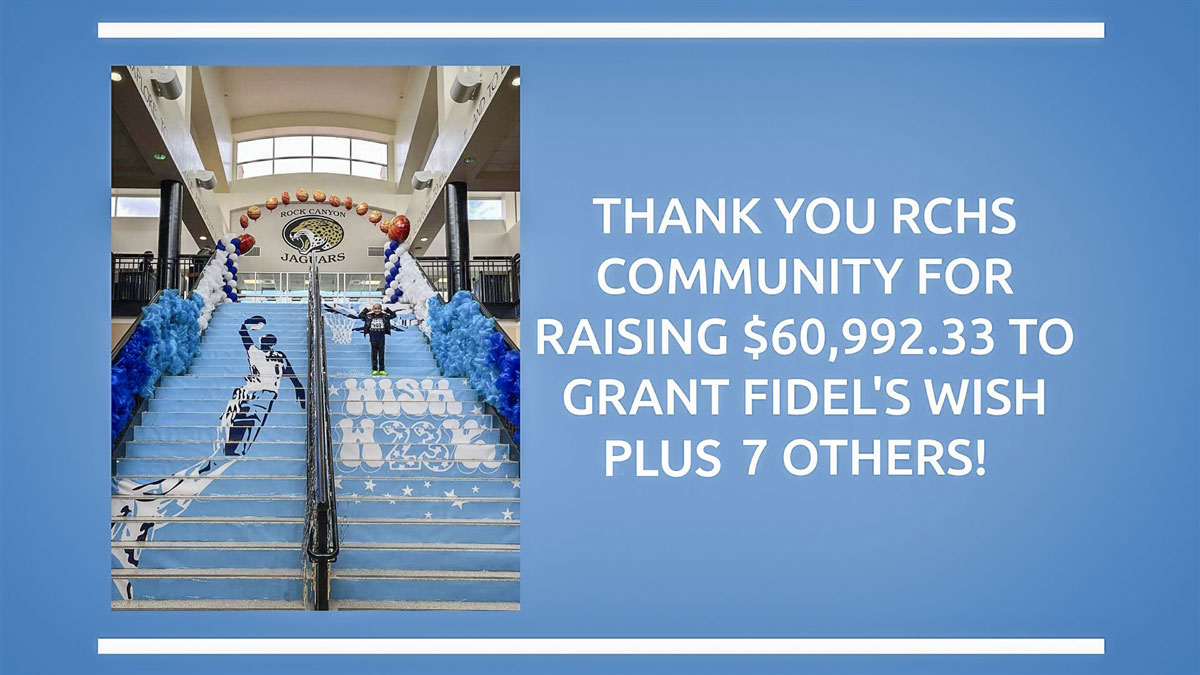 Rock Canyon High School (RCHS) has participated in Wish Week for 14 years. Each year, the student council partners with Make-A-Wish Colorado to organize school and community-wide fundraising activities.
In 2010, RCHS joined the Kids for Wish Kids team – a part of Make-A-Wish Colorado specifically designed to get today's youth involved in creating life-changing opportunities for kids with life-threatening illnesses. "For one week, our school unites as we work to raise the minimum $7,500 required to grant a wish," the RCHS wish week webpage states.
Each year, RCHS raises much more than the $7,500 for one wish, and this year was no exception. The RCHS community raised an impressive $60,992.33; enough to grant Wish Kid Fidel's wish and wishes for several other children. "Our focus is always 'one kid, one wish,' and we have been fortunate enough to grant that one wish each year," stated Hannah Klein, RCHS Student Council teacher sponsor. "We are also always fortunate enough to grant many more wishes each year. We have granted more than 100 wishes!"
Wish Week activities include opening and closing school-wide assemblies, Walk for Wishes, "Drive-In" movie night, blacklight dodgeball and numerous restaurant nights. Students also have the opportunity to purchase a wish kit, which includes a tee shirt, sticker and lanyard, all with the wish week logo.
The student council works for months to prepare for Wish Week. Klein explained, "The students contact all the restaurants, they come up with all the spirit days, they turn our school into a magical place that reflects the Wish Kid's wish and favorite things, they run the assemblies and each event, and they interact with our Wish Family to help create a safe and fun space for them. They are absolutely incredible."
Klein described Fidel as an incredibly vivacious and strong kid with a great sense of humor who loves all things sports. His wish was to meet his favorite NBA basketball player, LaMelo Ball from the Charlotte Hornets, said Klein. Fidel is battling leukemia.
Klein added that three business sponsors – Employers Council, Away With Words and Brick-Bryk were also instrumental in not only granting Fidel's wish, but sending a kid to go see sea turtles, to get a camper, to go to the Bibbidi Boddidi Boutique, to go to Hawaii, to see Hamilton on Broadway and more.
By Celeste McNeil; courtesy photo