Rock Canyon Lacrosse Finishes First Varsity Season
June 1, 2006
/
/
Comments Off

on Rock Canyon Lacrosse Finishes First Varsity Season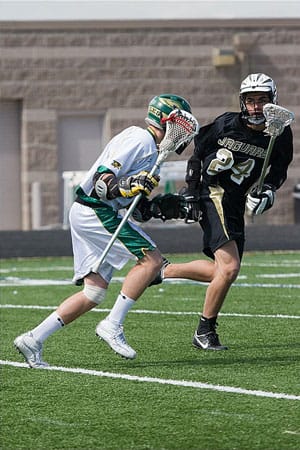 CPN resident Chad Spath (#24) of the Rock Canyon Jaguars battles a Mountain Vista player during the March 18 game. CPN resident Andrew Paredes is assistant coach of the Mountain Vista team.

by Belinda Paredes
The Rock Canyon High School (RCHS) boy's lacrosse team finished its season with only one loss and an opportunity to make the playoffs. The team played its final game against Douglas County High School May 1, but came up just short of that goal.
With a team consisting of mostly juniors and a few freshman and sophomores, the Jaguars had a productive first varsity season. "This has been one of the toughest things to overcome, that our younger guys don't have some of the size and strength that most schools with seniors have," said Sean Byrne, team captain and goalie. "This year has been tough yet fun. We have learned to be a team and know what playing varsity lacrosse is all about," continued Byrne.
As a new school, RCHS has not had a senior class walk the school's halls since opening the doors three years ago. The 2006-2007 school year will be the first year RCHS will have a senior class. To learn more about RCHS Lacrosse visit the school's website at www.dcsd.k12.co.us/secondary/rchs.