Rock Canyon marching band goes to state
December 1, 2017
/
/
Comments Off

on Rock Canyon marching band goes to state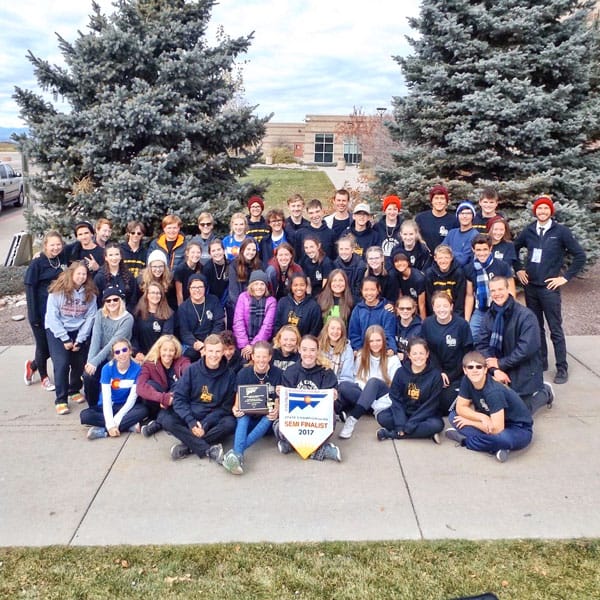 The Rock Canyon High School marching band smiles with their semi-finalist award after an exciting season.


By Sarah Bermingham, RCHS intern writer; photo courtesy of Suzanne Wilson
The Rock Canyon High School (RCHS) marching band ended its season with an impressive finish at the state marching band competition. Riley Busch, RCHS marching band drum major and Castle Pines Connection intern writer, said "The Colorado Bandmaster Association (CBA) State marching band competition is always the focused goal we have for our season. Not only did we obtain that goal, but we reached new heights as a program as well!"
For the second time in school history, the RCHS band progressed on to the semi-finals portion of the competition. The top 20 bands in the state compete in the quarter-finals and the top 12 from that competition move on to semi-finals. The top six bands compete in the final competition. RCHS took 11th place in quarter-finals with a school record breaking score, then advanced to semi-finals where they finished in 12th place, receiving the second-highest score in school history.
It took an immense amount of hard work from everyone in the RCHS marching band to do so well. The team rehearsed for more than 300 hours over the course of their four-month season.
Dylan Beattie, sophomore flutist, explained how early mornings were an obstacle stating, "At semi-finals, we performed at 8:30 in the morning. For us to get there on time, the band had to be at RCHS at 4:30 in the morning."
In addition to working through cold weather challenges and long practice hours, the marching band also has a new band director, Zachary Fruits, who is the band teacher at RCHS. Rachael Huxley, RCHS band member, said, "One thing that was difficult this season was having a new director. However, we all adjusted very quickly, and Mr. Fruits did a great job his first year. For a director to bring a band to semi-finals their first year at a new school is really impressive, and we all really appreciate Mr. Fruits' hard work."
This season was not just all hard work, however. The RCHS marching band had a lot of fun together this season. The group planned fun team activities, including water balloon fights, bowling, trips to IHOP and other restaurants and movie nights. It was also very rewarding for the group to do so well at the state competition. Huxley stated, "My favorite thing about marching band this year was making it to semi-finals. We worked so hard to get there so it was super exciting that it paid off."