Rocky Heights Middle School makes learning both challenging and fun!
February 1, 2013
/
/
Comments Off

on Rocky Heights Middle School makes learning both challenging and fun!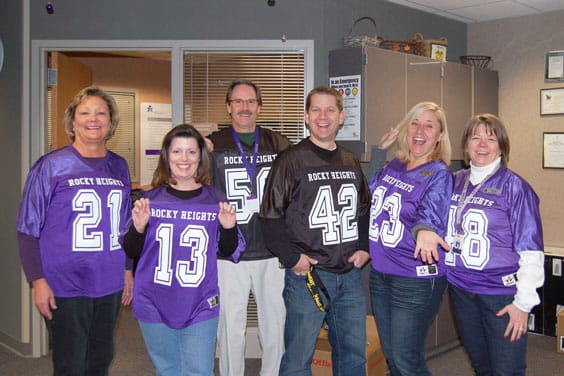 School spirit is on display every Friday when the staff at RHMS wears their purple and black football jerseys. "Our students, our community, our staff, and the partnership all three of those groups create, make our learning environment a cut above the rest!" remarked Principal Mike Loitz.
Article and photo by Amy Shanahan
Rocky Heights Middle School (RHMS) continues to raise the bar and exceed expectations as an excellent middle school in Douglas County. RHMS was again awarded the John Irwin Award for excellence in academic achievement by the Colorado Department of Education, and it continues to receive accolades in numerous areas.
RHMS promotes a philosophy of teaching 21st century learners by incorporating project-based learning, with technology being an integral tool. Students are taught to think creatively to solve problems, and are challenged on a daily basis.
The elective classes are exceptional and appeal to a wide range of students' interests. The technology lab is state of the art and is used on a daily basis to produce student run news broadcasts. Students additionally learn to create, produce and edit videos using high-end software programs. The art department hosts an arts celebration each year, which showcases the students' artwork, including sculpture, paintings, drawings, abstract art, and digital art. The drama and music departments produce two excellent plays each year, and many students showcase their musical talents by participating in the band and orchestra.
RHMS has numerous clubs, including an excellent math club, and a robotics club, which hosted the first middle school robotics competition this past fall. Service clubs include National Junior Honor Society, and a Junior Rotary Club. Service projects are an important component of the experience at RHMS with each grade level participating in numerous outreach and community support programs. School sports are open to all seventh and eighth grade students and provide a positive community building experience.
Parent Karen Magner remarked, "RHMS is unique because of strong parent participation, an administration that values transparency and community opinion, a charismatic and dedicated teaching staff, and an especially polite student body. What sets Rocky Heights truly apart is a symbiotic relationship between the administrators and teachers to constantly embrace change and promote the latest teaching, best practices, and technologies in the classroom."
Aside from the wonderful education and opportunities that RHMS students receive, the teachers and administration make RHMS a fun and welcoming place to be. This past fall, the staff surprised the students by creating a hilarious Lip Dub video, which may be viewed at
www.youtube.com/watch?v=9v2H_MynpJE.
When asked what sets RHMS apart from other schools, Principal Mike Loitz stated, "I think it is our culture and climate. We have an amazing community and supportive parents, which allows us to be a fun staff with high expectations. We strive to make every community member and student feel welcomed. We offer many of the same programs as the surrounding schools, but when you mix our climate and culture into the equation, students learn and strive to do their best just because they enjoy their time at RHMS."
For more information about RHMS, check out the school website at sites.google.com/a/dcsdk12.org/rockyheights-middle-school, or call 303-387-3300.