May 1, 2011
/
/
Comments Off

on Sangria Surprise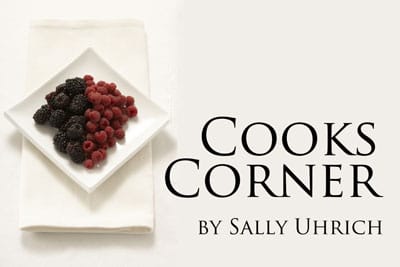 by Sally Uhrich
Summer is almost here and with it, the ability for entertaining outside. The 2001 June edition of Women's Day Magazine features a refreshingly different dessert described as, "Sangria you eat with a spoon." The colorful fruit-sangria combination not only makes for a lovely presentation, but is also low in fat. Planning Tip: Can be made through step three up to two days in advance.
2 cups white wine or nonalcoholic wine
1/4 cup sugar
3 1/2 cups of cut-up peaches, plums, oranges and grapes
2 – 3 oz. boxes sparkling white-grape gelatin
2 cups cold white grape juice (for added sparkle, substitute club soda, seltzer or ginger ale for the white grape juice).
1. Combine wine and sugar in a medium bowl; stir until sugar dissolves. Add fruit; stir to mix and coat. Cover with plastic wrap and refrigerate at least 4 hours or more.
2. Drain liquid from fruit (about 2 cups) into a medium saucepan; bring to a boil. Put gelatin into a medium bowl, add boiling liquid and stir with a rubber spatula until gelatin is totally dissolved; stir in cold juice.
3. Fold fruit into gelatin; pour into pitcher with at least a seven-cup capacity. (If you want this to look like a pitcher of sangria, insert a wooden spoon before the gelatin sets to equally distribute fruit.) Cover with plastic wrap and refrigerate at least three hours or up to two days.
4. Spoon from pitcher into dessert dishes or wine goblets. Serves eight.