Sheriff's Public Safety Advisory Committee Proposes Tax Increase
August 1, 2007
/
/
Comments Off

on Sheriff's Public Safety Advisory Committee Proposes Tax Increase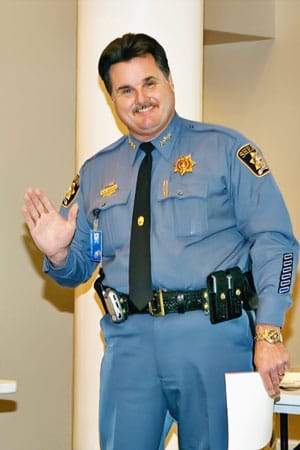 Douglas County Sheriff David Weaver


by Terri Wiebold
A citizen's committee formed by Douglas County Sheriff David Weaver recently presented two recommendations to the Board of County Commissioners for consideration as ballot issues for this November 2007 election:
The LEA (Law Enforcement Authority) Mill Levy should be increased 1.5 mills (from 4.5 to 6.0) for unincorporated areas of Douglas County, with revenues generated going directly toward increasing the number of patrol officers.
The Justice Center Sales and Use Tax that is scheduled to expire in 2010 should be extended until 2020.
The 35-member committee made the recommendations following an extensive evaluation of the service levels, operations and staffing of the Douglas County Sheriff's Office (DCSO), and from results of a report prepared for Sheriff Weaver by private consulting firm OMNI Group, Inc.
"It is my job to make sure that the citizens of Douglas County are appropriately served and protected," said Weaver. "I feel that these initiatives before the County Commissioners are fair and within reason," he continued.
Currently, the DCSO has one patrol officer for every 1,476 citizens in unincorporated areas, one of the lowest numbers of patrol officers per 100,000 unincorporated population (based on the "Ten County Budget Conference.") In comparison, neighboring Castle Rock and Parker have one officer for every 814 citizens and 751 citizens, respectively.
The Mill Levy increase would go directly to putting new officers on the street at a cost of approximately $12 per year in additional tax for each $100,000 of appraised real estate value. For example, with a Mill Levy of 6.0, a $300,000 home would pay $143 per year for police protection.
According to Weaver, "It is important that as the county grows that our service and protection in regard to patrol deputies on the road increases. I believe these initiatives can help us reach our goal and maintain our current mission statement."
To review the report submitted to the Board of County Commissioners, go to www.douglas.co.us/commissioners and click on "Meetings & Agendas" then July 11 "Special Business Meeting."