"Silent Fight" wins at the DCSD film fest
June 1, 2016
/
/
Comments Off

on "Silent Fight" wins at the DCSD film fest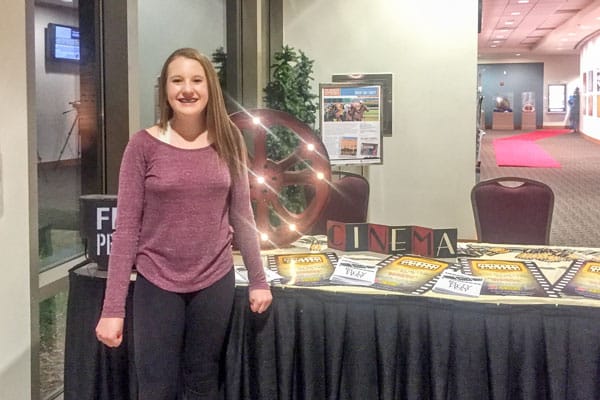 Hailey McDowell, eighth grader at Rocky Heights Middle School was one of the award recipients at the DCSD Film Fest on April 27 for the PSA "Silent Fight" that she and her fellow classmates created.


By Amanda Merriman; photo courtesy of the McDowell Family
The Douglas County School District (DCSD) honored student filmmakers with the second annual DCSD Film Fest (also known as the "Dougies"). The film festival was held at the AMC theater in Castle Rock on April 27. District-wide, students submitted works across a variety of categories and vied for the coveted "Dougie" award. The students discovered who won at the Film Fest that night, along with their family and friends. Hailey McDowell, eighth grader at Rocky Heights Middle School (RHMS) and Castle Pines resident, was among the winners of the evening.
McDowell has been a part of the nationally recognized multimedia program called Nighthawk Television (NHTV) at RHMS since the seventh grade. McDowell, along with classmates Emily Everds, Tierney Kellish, Kelli Nasseth and Nicole Loomis competed against other middle schoolers and won a Dougie for their public service announcement (PSA) titled "Silent Fight."
McDowell's teacher Tim Ryckman nominated their film Silent Fight for the DCSD Film Fest. Silent Fight is a very impactful PSA about the horrors of domestic violence. McDowell and her classmates were a creative force to be reckoned with, and most of the group acted in the film while all helped with brainstorming and editing. The result was a film that utilized stunning imagery to, as McDowell stated, "remind viewers to be kind to others because people may be going through challenges that others are not aware of." McDowell liked creating a PSA for its potential to educate and inspire change.
The accolades did not stop for Silent Fight at the DCSD Film Fest. "Silent Fight" went on to win awards for PSA and Animation at the NHTV Film Fest on May 13. McDowell had a great experience at the film festivals, and stated she would likely continue taking film classes throughout high school.
To see a complete list of winners for the DCSD Film Fest, visit www.dcsdk12.org/dcsd-film-fest.