July 28, 2021
/
/
Comments Off

on Summer swim team fun
By Celeste McNeil; photos courtesy of Mamie Black and Mira Brand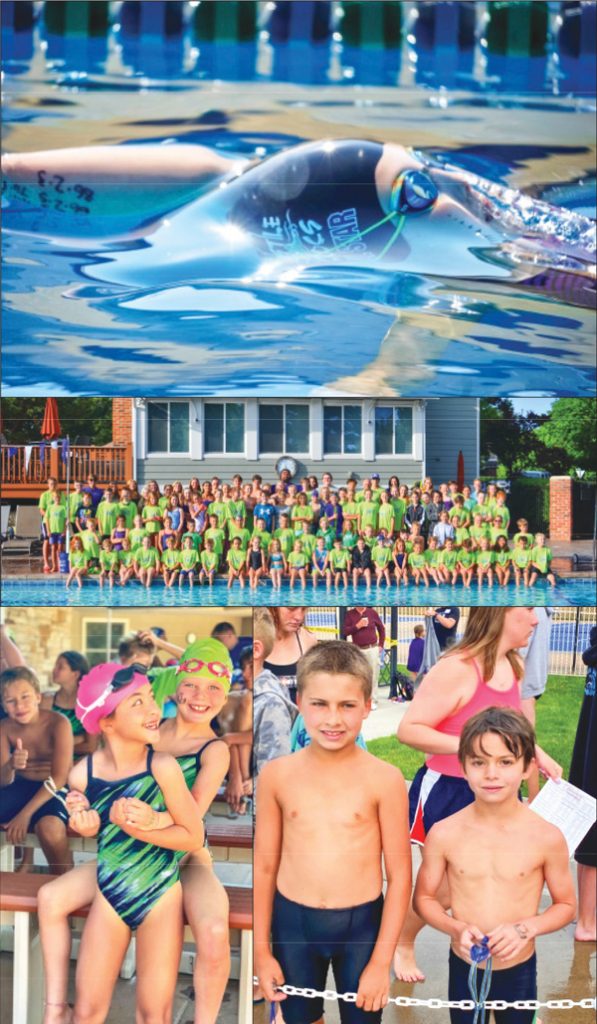 Summer swim team is a fun and exciting tradition in the community, and this year was no exception. Both neighborhood teams, Castle Crocs and The Village Stingrays were excited to be back in the water this summer.
Crocs Board President Tracey Ray spoke for the coaching staff and swimmers when she stated, "We all appreciate being back and how fun it is to watch our kids learn, grow and compete. May we never take that for granted!"
The Crocs traditionally fill a large team, and this year 185 swimmers made a splash in the homeowner association pools of CPNII and HOA2 for early morning practice and Saturday meets. More than 60 Crocs qualified for the end-of-season championship meet, and 33 swimmers were fast enough during the season to earn the required time to compete at the all-star swim meet in late July. The Crocs logged a 4 and 1 record for the 2021 summer season.
The Village Stingrays are a smaller team, with about 55 swimmers consistently competing in the weekly swim meets. Even so, the Stingrays sent 30 swimmers gliding to the league championship meet and had 16 qualify for the all-star meet.
The Stingrays have a strong young group of swimmers, and they look forward to bettering their season record of 1 and 4 as their young swimmers grow and strengthen. Despite this season's stats, the Stingrays had a blast swimming together.
The Crocs and Stingrays are both part of the Mountain Hi Swim League, but have usually been in different divisions, so they do not compete against one another in regular season meets.
Both swim teams are family and community oriented, with parents shuttling swimmers to and from practice and volunteering at each meet to ensure it runs smoothly. Many of the junior coaches began as swimmers on their respective community teams. They excitedly share their swimming knowledge and encouragement with younger swimmers throughout the summer, both during the team season and after in the community pools.
Cheering and encouragement can be heard echoing off neighboring homes during swim meets. Neighborhood associations are instrumental in the continuing of summer swim team and the team boards (all parents and neighborhood volunteers), coaches, parents, and swimmers are grateful for their continued partnership and support.