Teacher Kickball Game Fun for All
January 1, 2006
/
/
Comments Off

on Teacher Kickball Game Fun for All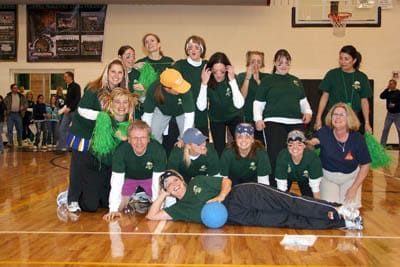 Buffalo Ridge Elementary Buffalos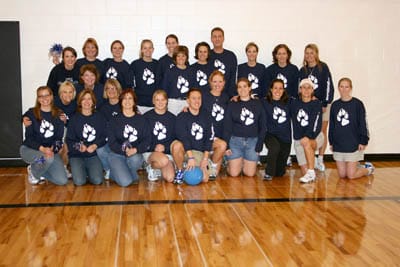 Timber Trail Elementary Timber Wolves
Chants of "TIMBER TRAIL" and "B-R-E" filled the packed gym of Rock Canyon High School Thursday January 26. Families waited in line to purchase tickets to watch the teacher and staff of Buffalo Ridge Elementary (BRE) and Timber Trail Elementary (TTE) face off on the kickball court. The TTE Timber Wolves came out on top with a 12-10 score over the BRE Buffalos in this 3rd annual family event held by the two schools.
The game began with a group of 10 children, representing both schools, singing the National Anthem. Tom Green, anchor for the WB2 Morning News, emceed the event, announcing the players and keeping the crowd appraised of the score. Annette Fante, Assistant Superintendent for Douglas County, was the official pitcher for the game. The BRE Buffalos were first up to kick while BRE fifth grader, Dylan Cyntola, rapped out rhythms on his drums.
At halftime, Lisa Phillips, TTE principal, and the Timber Trail Education Alliance, the school's parent-teacher organization, presented Barry Meigs, BRE principal, with a trophy in honor of his career at BRE. Meigs, after 30 years in education, five at BRE, is retiring at the end of the 2005-2006 school year. Halftime ended with students, teachers and parents getting funky and doing the "Stomp".
Earlier in the evening, the Buffalo Ridge Education Alliance, the school's parent-teacher organization, hosted a chili cook-off. All chili makers brought in their favorite recipes hoping to take one of the top five spots as best chili at BRE. Winners received gift certificates for dinner and a movie out. CPN resident and owner of the Cold Stone Creamery in Castle Rock, Bill Santos provided samples of ice cream. The perfect dessert to round off a spicy dinner not to mention an awesome halftime refreshment!
The game, at times was more of a comedy relief than a serious competition, but after all it is a kick ball game and all who participated and attended had a great time. From balls getting stuck in the rafters to catches popping out of the player's arms, it's a testament to the dedication the teachers of the community have to the students they teach each day. CPN is fortunate to have these educators shaping the minds of its children.
Click here for a Slide Show