Teens have the opportunity to volunteer
May 1, 2012
/
/
Comments Off

on Teens have the opportunity to volunteer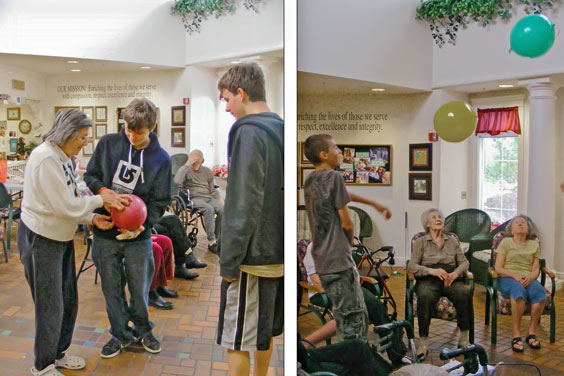 Jacob Santos, Thomas Moran and Kyle Huebsh, from Castle Pines are assisting Clare Bridge Residents with fun activities.
By Birgit Moran
Douglas County high school students are required to complete 20 hours of community service to graduate. Teens and their families scramble to find the right place to volunteer. One place that attracts many different age groups is Clare Bridge – a dementia care assisted living community in Highlands Ranch.
Local high school students from Regis, Rock Canyon and others take on short term or longer term community service projects that include dancing, music, art, exercise and socializing with seniors. "This is an experience I'll never forget," said volunteer Jacob Santos. Volunteers must be at least 16 years old or be accompanied by an adult. Contact Michelle Moir at 303-683-2555, located at 9160 S. University Blvd., Highlands Ranch.
Other opportunities to fulfill community service hour requirements include:
The Wildlife Experience, 720-488-3318
Volunteers of America (Colorado), 303-297-0408 (Children's Museum)
Denver Botanical Gardens 720-865-3537
Denver Dumb Friends League 303-751-5772, ext. 1936
Saddle Up Foundation 303-788-1666
Douglas/Elbert Task Force, 303-688-1114
Praying Hands Ranch (therapeutic ranch environment for the handicapped) 303-841-4043
Douglas County Libraries 303-841-4043or call 303-791-READ
Metro District of Highlands Ranch, 720-240-4909 (Events, Rec Centers, Parks)
Special Olympics Colorado 303-592-1361
Highlands Ranch Community Association 303-791-8828
Denver Rescue Mission 303-953-3955
Habitat For Humanity 303-534-2929, ext. 313
American Red Cross 720-524-5454
The Women's Crisis & Family Outreach Center 303-688-1094
American Cancer Society Outreach Center 720-524-5454
Douglas/Elbert Task Force 303-688-1114 (Stock food pantry and work in the thrift store in Castle Rock. Must be 15 years old.)
The Colorado Trail Foundation 303-384-3729
Events, Etc. (various events citywide) 720-763-9013
Heart and Stroke Walk June 2 – for the American Heart Association: 303-996-8731
Relay for Life event August 10-11 – for the American Cancer Society 303-346-8379
MS Society 303-698-5443
Zuma's Rescue Ranch (Horses and children programs) 303-346-7493
The Castle Pines Storm Swim Team – 303.898.6797