TTE students participate in school district art show
April 1, 2016
/
/
Comments Off

on TTE students participate in school district art show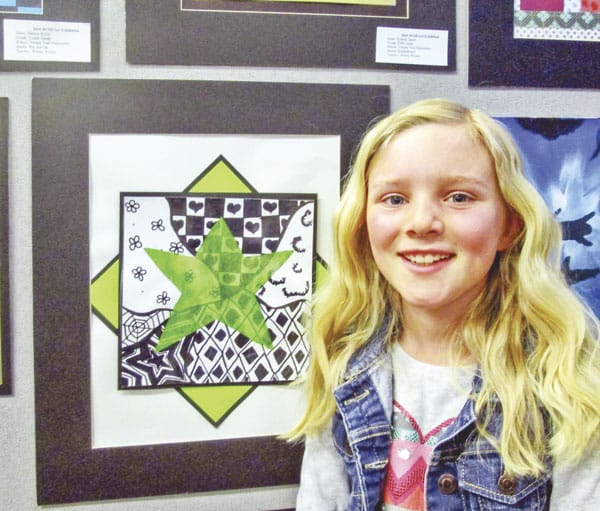 Second grader Lyric Miller with her pen and ink Zentangle design with a tissue paper star applied over it.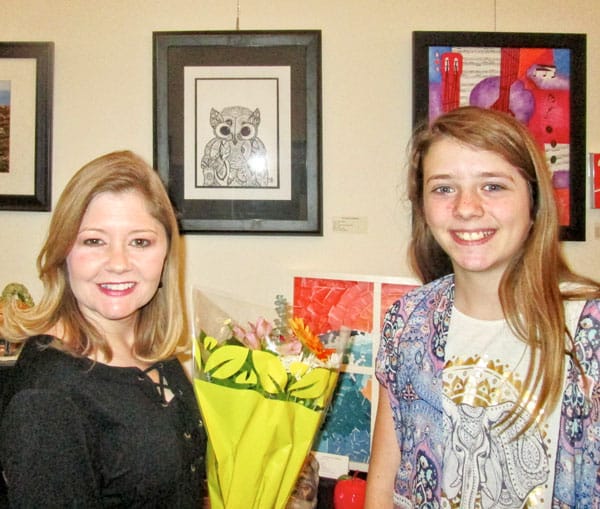 Art teacher Wendy Wilson congratulates fifth grader Claire Blaeser, who won the Best of Show award for TTE.
By Lynne Marsala Basche; Photos courtesy of Wendy Wilson
Twenty-five Timber Trail Elementary (TTE) students, under the guidance of their art teacher Wendy Wilson participated in the Douglas County School District (DCSD) Art Show. The March event, which was held at the Lone Tree Arts Center (LTAC), showcased talent from throughout the district.
At the beginning of each school year, Wilson talks to her students about the different art shows throughout the school year. The students know that every piece they create is art-show eligible as long as they put forth the effort to make their piece stand out. At the completion of each project, Wilson sets aside those pieces to be considered for shows. For the DCSD Art Show, teachers and students voted on the projects they felt represented the lesson the best, and those pieces were displayed at LTAC.
TTE's body of work at the Douglas County-wide art show included pieces from kindergarten through fifth grade. Art included paintings, collages, stone carvings, mixed media and drawings to name a few of the displayed mediums.
"I love the opportunity that the art show provides the students of Timber Trail Elementary," said Wilson. "It not only celebrates talented student artists but also encourages creativity by allowing students to be recognized for their hard work."