War Veteran Memorial Plaza set to open on Veteran's Day
November 1, 2011
/
/
Comments Off

on War Veteran Memorial Plaza set to open on Veteran's Day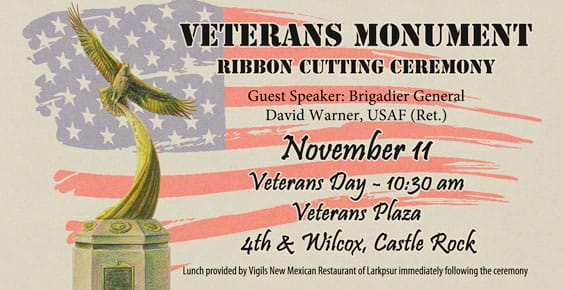 By Amy Shanahan, artwork courtesy of Bill Hueg
The new War Veteran's Plaza in downtown Castle Rock will honor all six military branches and veterans of all wars, including those who have served, are currently serving, and who will serve their country in the future
.
The plaza is located on the corner of Wilcox and Fourth Street in Castle Rock. The official opening of the plaza will take place on November 11, Veteran's Day, with a celebration from 10:30 a.m. to noon. The celebration will include a flag raising by all six military branches and the POW/MIA flag, ribbon cuttings by the Castle Rock and Castle Pines Chambers of Commerce, a keynote speech by retired United States Air Force Brigadier General David Warner, and lunch served by Vigils Restaurant of Larkspur. The celebration is open to the public, and the organizers are looking forward to a large turnout.
The plaza is the result of the tireless work of the Douglas County Veteran's Monument Foundation (DCVMF), which was formed in 2009 under the leadership of Korean War veteran Henry Bohne. "It has taken a long time and the efforts and support of many veteran supporters to get to this point," remarked Bohne.
Upon completion, the Plaza will feature a large monument, which is being created by artist Bill Hueg of Peacock Studios in Westminster. The 13 ½ feet tall and 9 ½ feet wide monument is due to be complete in the fall of 2012, and will depict a bronze eagle lifting a Betsy Ross thirteen star flag. This will be mounted on a six-sided pedestal, which will include the six military service seal plaques, a dedication plaque, and a tribute plaque to Gold Star Mothers, which pays homage to families that have lost family members in the service of their country.
The dedication ceremony on November 11 will debut the seven flag poles representing the flags of the six branches of the military and the POW/MIA flag. The military flags will be raised by a veteran from each military branch. "My personal honor of raising the Navy flag is very important to me," said board of directors member Robert Rotruck, a Navy veteran of the Vietnam War. "It means a lot to me that we will be honoring all branches of service." The POW/MIA flag will be raised by a former prisoner of war.
Financial support for the plaza and monument has been made by donations from local companies and residents. Upon completion, the project will cost $120,000, and the Foundation is in need of further donations. To learn more about the DCVMF and the memorial plaza or to make a donation, go to www.dcvmf.org.