Workout group designed for babies and moms
June 1, 2016
/
/
Comments Off

on Workout group designed for babies and moms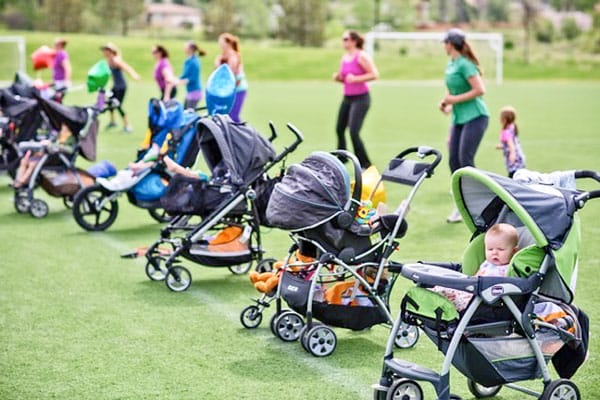 Fit4Mom offers Stroller Strides classes, which allow new moms to keep their babies close while enjoying a workout and connecting with other new moms.

By Amy Shanahan; photos courtesy of Brittnie Harris
As most moms will attest, pregnancy and raising small children can be full of many highs and lows, and the support of other moms, as well as staying healthy can make a huge difference. Castle Rock resident Brittnie Harris discovered the benefits of building relationships with other moms and keeping healthy shortly after having her oldest son five years ago. Harris joined a local group called Fit4Mom, and she is now the proud owner of the Castle Pines and Castle Rock franchise!
Fit4Mom is a wonderful organization that offers classes for both pregnant women and new moms in local parks. Stroller Strides classes are geared toward pregnant and new moms with stroller-aged children, and Body Back classes, which are more intense, are geared toward all moms with older children. Harris explained, "Women should workout when they are pregnant as it helps before, during, and after labor. Our classes for the new mom are great because they can bring their baby in a stroller and get in a great workout without leaving their babies. We entertain the little ones by singing and acting silly. The workout is great but the bond with other moms is awesome too!"

Instructor Brittnie Harris (center) enjoys leading other moms in killer
workouts at local parks throughout Castle Pines and Castle Rock. The
women have the opportunity to bond while focusing on good health and
nutrition.
Fit4Mom is hosting its third annual Summer Kickoff on June 17 from 9 a.m. to noon at the Douglas County Fairgrounds Pavilion A, and the event is open to all interested moms. The morning will begin with a stroller workout followed by playtime and a party in the park featuring vendors with mom-centric products, prizes and lots of fun!
Harris is passionate about her business and enjoys connecting moms with each other. "My mission with Fit4Mom in Castle Pines and Castle Rock is to befriend moms who are just like me – new to motherhood, seeking friendship and advice from other moms, and also to wear my kids out so they sleep well! We set an example to our kids to lead healthy, active lives, while keeping it fun. So they never know exercise is 'work'!" For more information visit www.castlerock.fit4mom.com or email brittnieharris@fit4mom.com.