2012 Ducky Derby could bring big bucks for lucky ducks
April 1, 2012
/
/
Comments Off

on 2012 Ducky Derby could bring big bucks for lucky ducks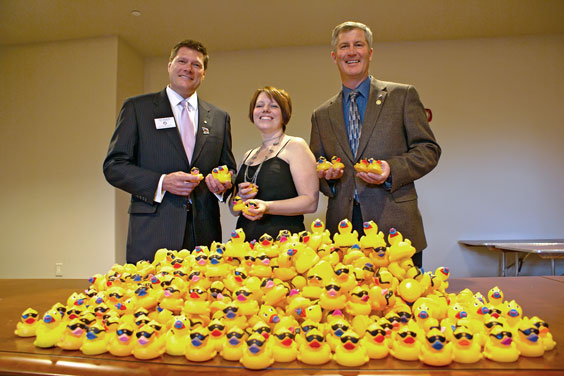 (Left to right) Castle Pines Rotary Club President A.J. Arnett, Castle Rock High Noon Rotary Club President Christina Brigham, and Castle Rock Rotary Club President Ed Brewer get their thousands of rubber duckies in a row for the 16th Annual Ducky Derby and Street Festival.
By Elizabeth Wood West
The Castle Rock Rotary Club, Castle Rock High Noon Rotary Club, and Castle Pines Rotary Club will be hosting the 16th Annual Ducky Derby and Street Festival, their largest annual fundraiser.
This popular, family-friendly event will be held on Saturday, June 9, from 11 a.m. to 5 p.m., between Second and Perry Streets in downtown Castle Rock. The Street Festival starts at 11 a.m. and will feature live music, craft vendors, face-painting, silent auction, food and beverages. The Ducky Derby begins at 3 p.m., when more than 10,000 pre-numbered rubber duckies will be poured into Plum Creek.
Lucky Ducky Derby ticket holders may win a $1,000,000 annuity, a new 2012 Chevrolet Camaro, cash prizes, or several hundred other prizes. Additionally, each Ducky Derby ticket has a special discount coupon printed on the back from Ducky Derby sponsor Dukes Steakhouse in Castle Pines.
Proceeds from the Ducky Derby's ticket sales and sponsors benefit the clubs' many charitable efforts, as well as local community non-profits such as Castle Rock Senior Center, Women's Crisis and Family Intervention Center, Castle Rock Players, Face the Challenge, Transafrika Cultural Institutes, and Douglas/Elbert Task Force. Last year's Ducky Derby event raised more than $38,000.
Major sponsors include Castle Rock Adventist Health Campus-Centura Health, Chick-Fil-A, Community Media of Colorado, Dukes Steakhouse, IREA, Johnson Auto Plaza, Leevers Supermarkets, Merrill Lynch Wealth Management, Mirage Dental, and The Castle Pines Connection.
Tickets are now on sale for $5 per ducky (or five tickets for $20) and may be purchased from Castle Rock Bank (both Castle Pines and Castle Rock locations), Castle Rock Senior Center, or from any Rotarian. For more information, visit www.crduckyderby.com.