A back to work retirement adjustment worth making
December 1, 2015
/
/
Comments Off

on A back to work retirement adjustment worth making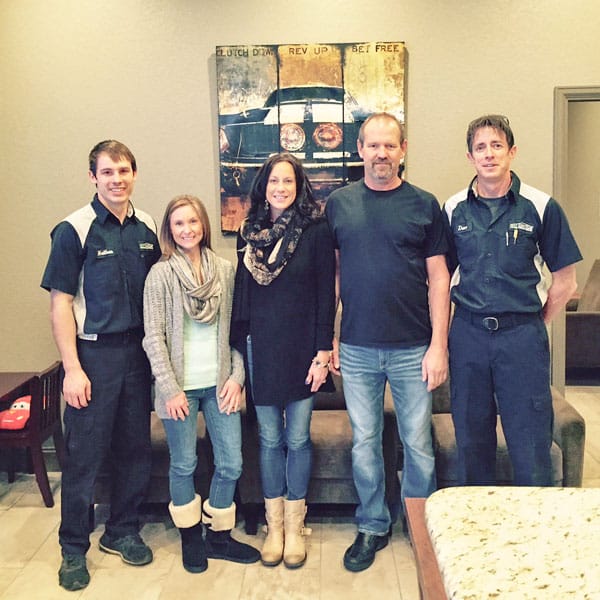 Next Auto Care's Nathan, Elise, Delores, Ken and Dave at your service.

By Joe Gschwendtner; photo courtesy of the Stafford Family
Castle Pines neighbors Delores and Ken Stafford had finally made one of life's most difficult decisions. The retirement funding was sufficient, they already owned a home in Arizona, and they had just sold their successful collision repair business for a profit. Retirement time; case closed.
Wrong. Perhaps not surprisingly, they were quickly bored beyond tears. How many of our readers have had their own similar epiphany? Rx: find another working life.
After evaluating options and securing the space of an 8,000 square-foot former Sears small appliance showroom, the Staffords reconstituted themselves in the auto repair and maintenance business. The transition wasn't hard, as Ken had grown up with a dad who was a cracker-jack auto mechanic and their old collision business had also provided collateral training. Delores, to her credit, and whose body courses with energy applied it all to the marketing challenges.
The more interesting story is that they chose auto repair instead of something more different and well, exciting. I inferred as much and Delores was quick to tell me that their market was vastly different and seriously underserved if you were a woman. And then I listened more carefully…
As I came to discover, there really are compelling reasons for their next level of service concept. First, the number of cars being retained longer is growing. In these instances, there is a tendency to seek a repair-person relationship that is high on knowledge, flexibility, and trust. Price becomes less important and reliability, more so. If this sounds like the relationship your parents had years ago with their mechanic, you are right. Since Ken really was himself a genuinely talented repairman and car buff as well, the business plan was a natural segue.
Equally important was Delores' observation that many women tend – if not to shrink from – a relationship with car mechanics, to feel at least very uncomfortable about the interaction. Because of this, she feels there is a huge opportunity to capture and deliver quality work on women-owned, seasoned cars, if only she could communicate their readiness to do so effectively.
And she's doing it. The Stafford's lobby is well-appointed, neat, compellingly clean (restrooms too), and "manned" (you guessed it) by a young woman receptionist, Elise. Moreover, there was no doubt that Ken was in utter agreement about their marketing approach and the niche opportunity they wanted to fill.
So, if you have an old car "friend" to which you are loyal and want to keep for a long, long while, or just a reliable auto that you make available to your son or daughter, consider giving Next Auto Care a call when it's time for a check-up. You just might have found yourself a new family mechanic. And don't forget, women are warmly welcomed.