A Christmas tradition continues…
November 1, 2019
/
/
Comments Off

on A Christmas tradition continues…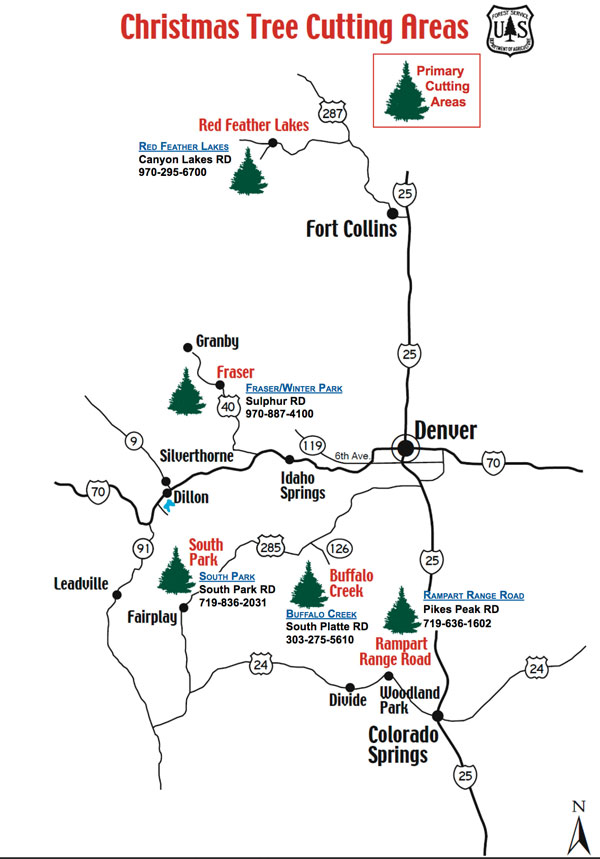 The two closest Christmas tree cutting areas to Castle Pines and the surrounding neighborhoods are Buffalo Creek and Rampart Range Road. Other areas are shown on the map for those who want to adventure a little further from home. Visit www.fs.usda.gov/detail/r2/recreation/?cid=fseprd562604 for more information.


By Patte Smith
There is nothing like heading up to the high country to search for the good old family Christmas tree. Remember the classic Chevy Chase movie "Christmas Vacation?" Hopefully for Colorado tree cutters, trekking through the snow is a tad bit warmer, and everyone remembers to take a handsaw. (No chainsaws are allowed.)
The Pikes Peak Ranger District office, 601 South Weber Street, Colorado Springs will be selling permits from December 2 through December 18, Monday through Friday, 8:00 a.m. to 4:30 p.m. Permits may also be purchased the weekends of December 7 – 8 and December 12 – 14 at the Woodland Park Work Center, 1408 Rampart Road. 2019 tree cutting permits are $20 with a limit of five permits per person. Cash and checks only are accepted on the weekends at Woodland Park Work Center.
Trees may be cut on National Forest land just east and north of Woodland Park along the Rampart Range Road, #300. Follow the signs. Directions to the cutting area will be provided at the district office and at the work center. Trees may be cut any time after purchase of permit through December 20.
For more information, visit www.fs.usda.gov/detail/psicc/about-forest/districts/?cid=fsm9_032551.
The deadline for mail-in permit requests Buffalo Creek, Camp Fickes, and Sugar Creek cutting areas expired on November 1, 2019.
Counter sales walk-in permits for Buffalo Creek, Camp Fickes and Sugar Creek start on Monday, November 4 through Wednesday, November 27. Permits are $20. Payment for counter sales can be made with cash, a check, money order or credit card. The South Platte Ranger District office is located at 30403 Kings Valley Drive, suite 2-115 in Conifer and is open Monday through Friday from 8:00 a.m. to 4:30 p.m. Permits are advance purchase only. No permits are available for purchase on-site at the cutting areas. Cutting dates are from Friday, November 27 through Sunday, December 15.
Tree cutting areas are located on the South Platte Ranger District of the Pike National Forest. Buffalo Creek is southeast of Pine Junction on County Highway 126 and FDR 550. Camp Fickes is located south of Buffalo Creek on FDR 550 approximately eight miles from County Highway 126.A. Sugar Creek tree cutting area is located along County Road 67 South of Sprucewood.
For more information, visit www.fs.usda.gov/detail/psicc/passes-permits/forestproducts/?cid=fseprd519650.
Reminder, chainsaws are not allowed and trees larger than 6" in diameter at ground level and more than 25 feet tall cannot be cut down. Check both websites listed above for other restrictions and recommendations.
While mountain trees are not "perfect" they certainly are fresh and fill a home with the scent of Christmas. Enjoy the hunt for the family tree – an outing to be remembered.