A life through story: Castle Pines resident Deni Loritsch pursues a career writing children's books
November 1, 2019
/
/
Comments Off

on A life through story: Castle Pines resident Deni Loritsch pursues a career writing children's books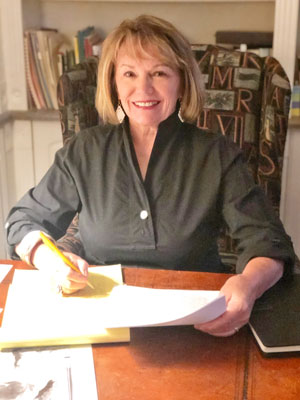 Deni Loritsch has been telling stories her whole life as a way to connect with those around her. She has completed four children's stories; one of which is ready for publication.

By Carin R. Kirkegaard; photo courtesy of Deni Loritsch
Speech pathologist, writer and storyteller are all words one could use to describe Castle Pines resident Deni Loritsch. Perhaps, lover of language would be the best descriptor. Her passion for words and love of language started when she spoke her first words at 9 months old. It has followed Loritsch ever since.
Currently, Loritsch is pursuing her writing and storytelling career. A skill she learned at her father's knee. She has four completed children's stories; one that is ready for publishing. Loritsch has four grandchildren and she has crafted a story for each of them. Her stories center around some struggle of each grandchild's life. Through the telling of the story, she hopes to allegorically help them through the struggle.
Loritsch paints a picture right out a children's book, of life growing up in a hollow in Virginia. Her father was an attorney and ran a hobby farm on the side. Their farm was home to a gamut of animals, everything from cows to cats. Loritsch's own children's stories reflect this life with many of her characters directly interacting with animals and nature.
Literacy was a challenge for many of the neighbors living in the hollow. From an early age, Loritsch witnessed her father bartering. He would help a neighbor with reading an insurance policy. In return the neighbor would help with mending fences.
Loritsch's career choice organically came from this example of helping. She spent her professional career working as a speech language pathologist. She has worked with clients from age 3 to age 101. Most recently, she retired from her full-time position of 14 years as a literacy specialist at ThunderRidge High School. Although, she does still see clients in her home office.
"A speech problem can become a language problem," Loritsch said. In her classroom curriculum, she would challenge her students with texts that pushed their literacy limits. "Kids can be more courageous and empowered then they think they can," continued Loritsch.
She also brought in some of her own stories as a way to connect. Loritsch's stories often have a protagonist that has personal struggles that impact getting through life, much like her students struggling with language. "Society benefits from kids reading," Loritsch said. "Kids benefit when they see themselves in a story," she continued.
In pursuit of honing her writing, Loritsch became an active member in the Castle Rock Writers group. The group has been meeting on the first Monday of each month at the Philip S. Miller library. For 20 years, their mission has been to support regional writers through workshops and peer mentorship.
Loritsch joined the board of the conference team of Castle Rock Writers several years ago to help the team find qualified writing instructors for the yearly conference. "She has a heart for young people and for writing that reaches children and
middle grade youth," said Alice Aldridge-Dennis, president of Castle Rock Writers. "She's been an asset to the conference team."
To learn more about Castle Rock Writers, visit www.castlerockwriters.com.