A conversation with DC Libraries Director, Jamie LaRue
June 1, 2009
/
/
Comments Off

on A conversation with DC Libraries Director, Jamie LaRue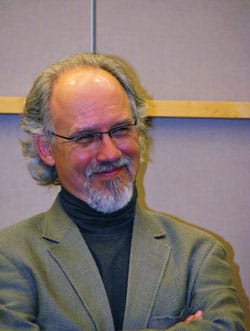 Message Provided by Douglas County Libraries Director James LaRue, guest editorial
The Castle Pines community has faced a few setbacks in its drive to bring a library closer to home. Narrow defeats in the last two elections to increase Library District revenue and budget issues have necessitated some cuts in services district-wide. Among these cuts: closure of library service in Cherry Valley and the planned discontinuance of the bookmobile. In the face of these changes, however, the idea of a Castle Pines Library is slowly becoming a reality.
At its April meeting, the Trustees of the Douglas County Libraries directed staff to bring back a lease proposal for a library in the Castle Pines community. With luck, we can sign it in May. With even more luck, we can have a small branch open in September 2009."
How is this possible — particularly since the library lost two elections in as many years, and have in fact cut our budget by $1.6 million just this year?
Answer: Due to the extraordinary work of a group of community activists, this potential new library may actually save money for the library district.
Let me explain. Back in 2005, the Castle Pines North Metro District (CPNMD) sought to buy from us a piece of land dedicated by a long ago developer for a library. We did indeed sell it to the CPNMD for the sum of $155,000, explaining that we did not want to stand in the way of local plans, although the sale would make it more difficult to open a library in the future. But we did set aside that money for the Castle Pines community.
Since then, we began our bookmobile service. We found out that Castle Pines residents really like libraries.
After the 2008 election (which garnered more than 62 percent support in Castle Pines North, although it was narrowly defeated elsewhere), local volunteers refused to give up.
First, they found a sympathetic property manager in Chuck Lowen. He, in turn, pitched to the owner of the Village Square Center at Castle Pines Parkway a bold notion: offer a three year lease to the library with a significant break for a couple of years. But the library will generate a lot of traffic for its neighbors, too.
There are still some expenses beyond the cost of our current bookmobile services. For instance, the library will have to pay utilities and common area maintenance fees (property maintenance, such as snow removal, parking lot repair, etc.). After three years, the owner (and the library) hope we can extend the lease, and perhaps expand the space from its modest start-up size of about 2,500 square feet.
But area residents pledged to raise enough funds to cover these new expenses. In just a few weeks, they proved they could do it. They now have pledges of over $30,000. At $50,000, we'll have enough for one year.
Bottom line: Castle Pines North might get a new library, and because of corporate contributions and private fund raising, the library district itself will spend less money than we spend right now.
Again, I would like to thank the city officials, our tireless volunteers, and the local business community for their support. Nothing happens without the hearts and minds of community leaders — and Castle Pines North is blessed to have many of them!
James LaRue has been director of the Douglas County Library District since 1990. For more information on Douglas County Libraries, visit www.dcl.org.