A quest for science at DCS Montessori
April 1, 2011
/
/
Comments Off

on A quest for science at DCS Montessori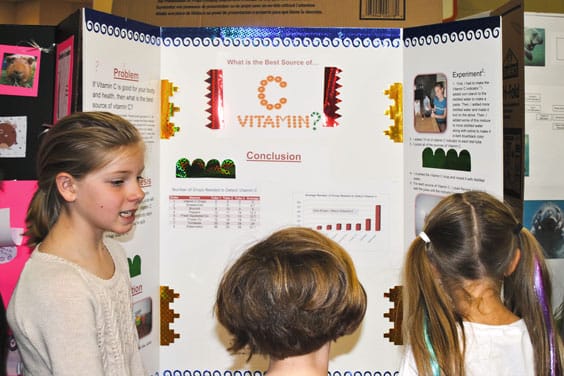 Article by Glenn Albert
Do plants dance? Is a banana peel more slippery than grease? Does stress or exercise raise your blood pressure the most? These and many other questions were investigated by 111 fourth, fifth, and sixth grade students who presented their science fair projects to fellow students and parents during the 7th Annual DCS Montessori Charter School Science Fair on Wednesday, February 23.
Students used recently acquired scientific knowledge and skill to find answers to their intriguing hypotheses. Every year, these students enhance their learning about the scientific method and experimentation using a true science project of their choosing.
First, a problem statement or question will be made, followed by a hypothesis, description and procedures for an experiment, observation and data collection, and a conclusion. The student's grade on their project and final report is based on how well they followed the scientific method and fulfilled these requirements.
Parents were surprised to learn that they may not be as smart as a fifth-grader. Seeing the variety of projects, they were enthusiastic about the school's Montessori science curriculum and the aptitude students have for science. As Lynn Hovde observed, "The energy, pride, and enthusiasm is unmistakable in all the childrens' projects!"
Science is an integral element of the Montessori curriculum. It is a clear thinking approach to gathering information and problem solving. The Montessori approach to science cultivates children's fascination with the universe and helps them develop a lifelong interest in observing nature and discovering more about the world in which we live.
To find out more about the DCS Montessori curriculum, visit www.dcsmontessori.org.