A step forward in connecting trail systems from Denver to Durango
December 1, 2015
/
/
Comments Off

on A step forward in connecting trail systems from Denver to Durango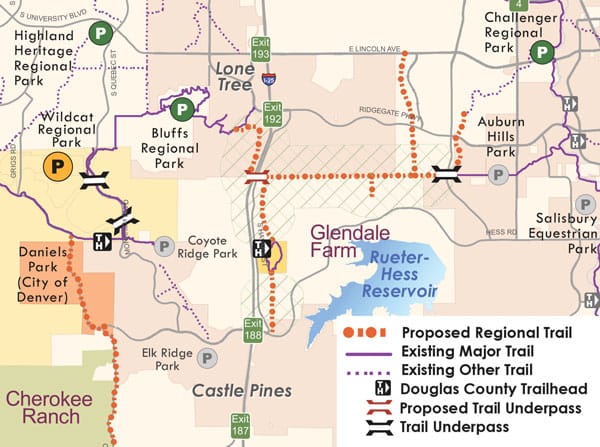 By Patte Smith; map courtesy of Douglas County Parks, Trails and Building Grounds
Enjoying the outdoors is one of the top activities for residents and visitors in Colorado. Whether walking, hiking, running, bicycling or horse-back riding, outdoor enthusiasts use the many trails and parks that wind through Douglas County and the state.
In 2017, the construction of the East-West Regional Trail extension from Parker to Lone Tree will begin. With that in mind, Douglas County Parks and Trails began building a trail head parking area located on Havana Street by the historic Schweiger Ranch last October. "Funding for this lot was available so it made sense to get the lot in place before the trail system construction begins," stated Randy Burkhardt, assistant director of Parks, Trails and Building Grounds. The trail head lot will have 20 parking spaces and 8 to 10 horse trailer spaces.
The extension of the East-West Regional Trail system from Parker will start at a trail that currently leads out of Challenger Regional Park heading southwest (see map). It will continue west and will include some trail underpasses. One of the underpasses will be under I-25 at Happy Canyon Creek. The trail will wind north and then west linking up to the East-West Regional Trail that is located behind Cabela's in Lone Tree.
The ongoing plan is to connect all the various trails throughout Colorado. "Several public agencies are involved in the process of connecting the trails," noted Burkhardt. "It can be challenging, but we are slowly making progress. Working together, the plan is to have trails that link from Denver to Durango." There is not an actual date of when the Denver to Durango link will be completed.
"By doing a little, we can achieve a lot," emphasized Burkhardt. "Hopefully in the near future it will only be a day's ride from Denver to Durango," he laughed. Wow, we all better start getting in shape!