A summery tan is just a spray away
December 1, 2014
/
/
Comments Off

on A summery tan is just a spray away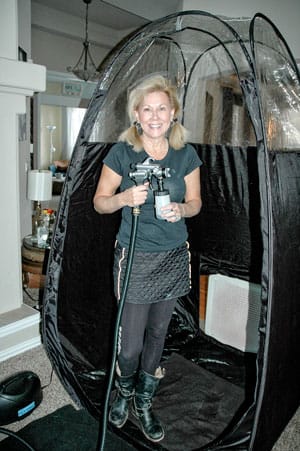 Castle Pines resident Denise Kelley with the tools of her mobile spray tanning trade. Using an airbrush tool, Kelley applies a natural tanning solution for an even, natural summer glow.
Article and photo by Lisa Crockett
Temperatures are plunging and snow covers the ground. Sunlight is in short supply, and summer tans have long since faded. But a quick call to Castle Pines resident Denise Kelley can change that fast, returning a summery glow in just minutes. Kelley's mobile spray tan business, Native Tan – named in honor of her Sioux heritage – is a new addition to the Castle Pines home-based business community. Kelly is passionate and excited about her new business.
"I love seeing a client when we're done," said Kelley. "Every time I do a tan, I think 'Wow! You look so good'."
Spray tanning is a career switch for Kelley, who previously ran an etiquette education business. Looking to make a change, she decided to train with Hollywood spray tan pioneer Simone Emmons, a well-known industry expert who provides spray tanning services to models and celebrities.
"I went to California and learned great technique for giving a natural, even spray tan," said Kelley. "I use the same machines and solutions as Simone. After my training, I practiced on friends to gain confidence, and I know people love how they look when they're done."
Kelley makes house calls for her tanning services. She sets up a simple tent in a client's home, which is used to catch any overspray that might occur. She uses an airbrush tool to apply the tanning solution, doing two coats – one applied horizontally and one applied vertically to ensure natural, even coverage. Tanning solution is applied from toe to head and an application takes less then ten minutes. After the application, the solution that has been applied needs to be allowed to cure for six to eight hours, during which time bathing or sweating is off limits. Kelley also offers an "express" spray tan which requires just an hour wait time.
"The process is simple and fun," said Kelley. "The tan will deepen while it cures, and for a day or two after."
Kelley said she loves the fact that a spray tan provides a healthy glow that lacks the sun's damaging effects. Her tanning solution called "Vino" is made from natural ingredients like grape skin, grapeseed oil, green tea, and vitamin E.
"The really nice thing about this solution is that it's great for your skin," said Kelley. "There are no toxins, and it's made to give your skin a beautiful color – after a tan from me you will not be orange!"
Getting to know clients and celebrate special occasions with them is one of the things Kelley said she enjoys the most about her job. Because a spray tan is often part of preparations for a big celebration – a vacation, a dance, or a wedding for instance – she shares in the happy anticipation her clients feel. But for Kelley, tanning can also be a special occasion in and of itself.
"I think a really fun idea is to have a 'tanning party,'" said Kelley. "It's so yummy for your body and a fun way to get friends together."
For more information about Native Tan services, call Denise Kelley at 720-273-5708. As of press time, Native Tan's website was under construction but should be available soon; visit www.nativespraytan.com.