Alberta Development moves forward with Promenade at Castle Rock
August 30, 2014
/
/
Comments Off

on Alberta Development moves forward with Promenade at Castle Rock
By Elizabeth Wood West; site plan provided by Alberta Development Partners, LLC

This site plan for Promenade at Castle Rock was submitted to the Town of Castle Rock for review and approval. The upper grey portion (just to the right of center) shows the existing Outlets at Castle Rock at roughly 478,000 square feet, less than half the size of the proposed new development.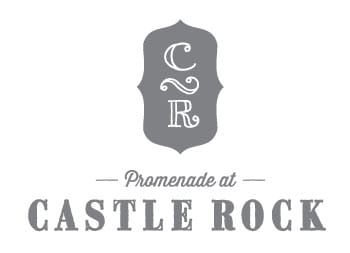 After hosting a public open house in July to share its vision for Promenade at Castle Rock (Promenade), Alberta Development Partners, LLC (Alberta) is expected to close on the project's property soon, according to Town of Castle Rock (Town) officials.
Alberta is also working with the Town on a myriad of preliminary details for its highly-anticipated project. The Promenade property is located adjacent to the Outlets at Castle Rock and Founders/Meadows Parkway (Exit 184) on the west side of I-25 in Castle Rock. An additional land parcel for this project is located directly across I-25 on the east side, just north of Grace Chapel Church.
The 200-acre mixed use development could cost an estimated $180 million and is planned to be 900,000 square feet of retail, restaurants, and residential units. Artist's concept drawings at the open house suggested that several large anchor retailers, such as a large discount warehouse and a natural foods grocer, may also be included.
According to Alberta's founding principal Don Provost, Promenade will be developed in phases with eight blocks of varying commercial businesses; he estimates that the overall construction time frame will range from 2014 through 2018. Town Development Services Project Manager Jason Reynolds said, "We're reviewing the site plans and civil construction drawings for the sites on the south end of the property next to Meadows Parkway. The site plan establishes general site layout and the civil construction drawings provide specific designs for water, storm sewer, waste water, and street connections.
The Town approved the proposed grading for the site west of Factory Shops Boulevard and south of Lowe's, so they could start grading as soon as they purchase the property (or earlier, if they get permission from the current owner)," he stated. "Some of the areas on the northern end of the site (labeled as Block 1 and 2 on the overall site plan) are currently zoned for residential and hotel uses, but not for retail.
The development team plans to submit a zoning request to the Town to allow retail and other commercial uses in those areas. Our understanding is that they're planning to submit the zoning request soon," he said.
For further information, contact Jason Reynolds at 720-733-3537 or e-mail.