American Academy commemorates Veterans Day
December 1, 2015
/
/
Comments Off

on American Academy commemorates Veterans Day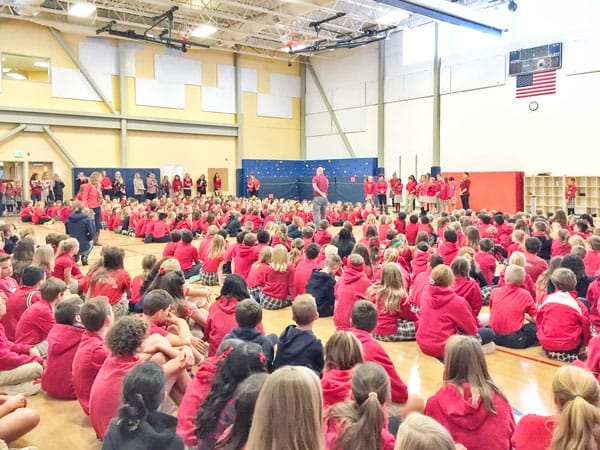 American Academy students unified in red to commemorate Veterans Day and honor who and what it represents.
By Lynne Marsala Basche; photos courtesy of AA
Each year, American Academy (AA) students acknowledge and celebrate Veterans Day. This year, however, the school was filled with new traditions in an effort to not only recognize the importance of the day but to also engage the students in a more memorable way.
Elementary assistant principal and Marine Corps veteran Patrick Mangan said, "Being young, it's hard for students to understand not only what Veterans Day represents, but also who it represents. We can talk all day long about it, but learning is always more meaningful when we can see and touch something."
A week before Veterans Day, students watched videos and discussed the history of the day, as well as how it became a day of honor for those who have served in the Armed Forces. On Veterans Day, students wore red shirts with their uniforms to visibly acknowledge the day. During morning announcements, all veterans on staff were mentioned, so students knew who served and could thank them throughout the day.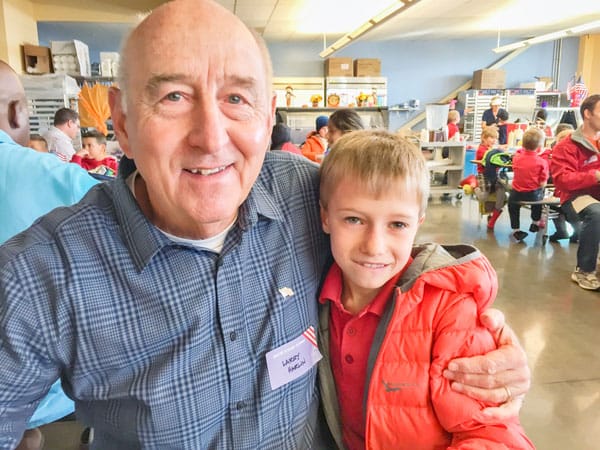 Students invited special veterans to join them for lunch on Veterans Day. Second grader McKenna Hogsett (left)with her uncle Steve Lara, and first grader Evan Landess (right) with his grandfather Larry Harlin.
In addition to a flag-raising ceremony (held indoors due to inclement weather), AA hosted "Take a Veteran to Lunch." Students invited veterans to join them for a free lunch and to be introduced to the school in recognition of their service. "By identifying veterans on a personal level and meeting the people who have done this good thing, they can see what service looks like for themselves. And what it looks like is your best friend's aunt, or the woman next door, or the guy teaching your class," noted Mangan.
There were also guest speakers and presentations throughout the day, as well as time to pause and reflect. While the individual events may have seemed small, together they made a big impact in a very meaningful way.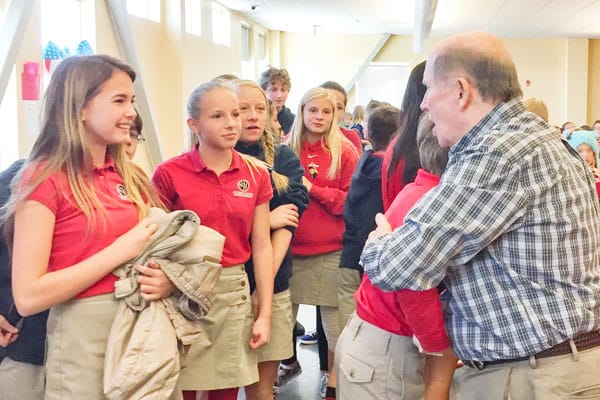 Jack Miller, grandfather of Grace and Cole Miller, stood in a receiving line for thank you hugs.