American Academy students make the leadership grade
February 1, 2011
/
/
Comments Off

on American Academy students make the leadership grade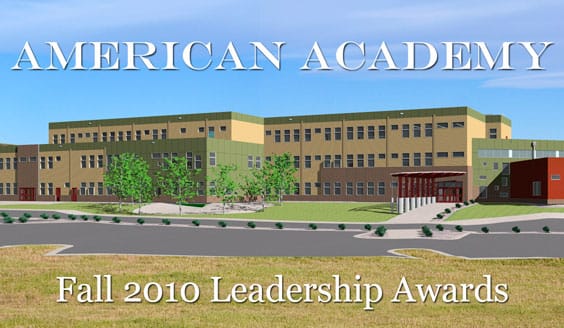 Submitted by Trish Cummings
Student achievement comes in many forms. Though the teachers and administrators at American Academy work very hard to make sure students excel academically, they also strive to create a culture of respect, responsibility and exceptional character among even the youngest students.
That kind of self-control and intentional behavior indicates great leadership character. However, it can also sometimes be a tall order for young people. So when students do make good behavior choices, when they act in kindness, speak consistently with respect, and take pride in and responsibility for their work, American Academy wants to call them out and commend them for it.
At the end of each trimester, each homeroom teacher selects one exceptional student from each class for a Student Leadership Award. If you know any of the following students, please be sure to congratulate them on their American Academy Fall 2010 Leadership Award:
Abby Fox, Abigail Benko, Alexis Schroeder, Alisa Sterling, Alyse Harris, Ashleigh Anema, Blake Sullivan, Brant Kragel, Chris Ahern, Cole Miller, Connor Brooks, Daniel Scholz, Dawson DeMier, Geneva Brant, Griffin Crawford, Jackson Whitten, Jackson Wisler, Jacob Herrera, Jonathan Bloom, Kayle Migaki, Kimberly Shelton, Kylie Oakes, Mariah Daley, Morgan Elliott, Natalie Hunt, Nathaniel Mayers, Noah Winston, Noelle Twomey, Steven Bruening, Sutter Maas, Taylor Edmonds, Tea Fantauzzo, Terrance Cavanaugh, and Trevor Cree.