Artist is an important part of the (cultural) landscape
March 1, 2015
/
/
Comments Off

on Artist is an important part of the (cultural) landscape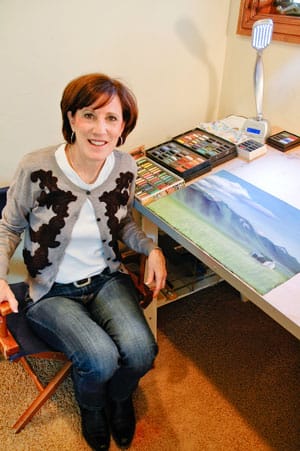 Pastel artist Sue Shehan showcases her work in various venues in Douglas County and surrounding areas.
Article and photo by Lisa Crockett
Castle Pines resident and artist Sue Shehan has talent coming out of her fingertips. Literally. Her signature cloudscape, landscape, and wildlife pastels are produced with deft and delicate strokes of pastel chalk using only her hands. Shehan uses photographs as a guide for her work, often snapping photos at sunrise or sunset near her home in Castle Pines Village, where she lives with her husband Dave. A native of Kansas, she said she is influenced by the work of Wyeth and Hopper. Wide-open fields, expansive skies, and quaint barns are found in many of her pieces.
"I love to watch storms and clouds," said Shehan. "Being from the Midwest, I love the dramatic skies over the plains. Sometimes I take a photo of something I think is really beautiful and can't wait to get home and get to work."
Shehan has been an artist all her life. Armed with a degree in illustration and graphic design from the University of Kansas, she began her art career as a magazine art director, and then pursued her art part-time while raising her three children, Patrick, Maggie and Connor. Seven years ago, she was ready to pursue her work full time again. After years of working mostly with watercolor, Shehan found herself drawn to the rich, saturated colors of pastels and took her work in a new direction. She sought training from noted pastel artist Kathy Beekman, who lives in Bailey, Colorado. Five years ago she began to show her work at local galleries and exhibitions.
Working out of a sunlit studio space in her home, Shehan is involved in every aspect of preparing her work for exhibition and sale, starting with using her favorite pastel chalks, produced by local artist Terry Ludwig.
"The chalks are luscious, like gems," said Shehan. "They are really rich and soft."
All of Shehan's work is done on black paper, which Shehan feels gives her work a dramatic feel and holds the color of the chalk. When a piece is finished, it is treated with a fixative, photographed and then prepared for framing. Shehan does the framing herself, building her signature mottled-finish grey-black frames by hand and cutting the non-glare glass herself.
Every piece has a name. "Spring" is the designation given to a lone tree on a grassy hill, bursting with leaves. "Best Buds" features birds perched together on a branch. Though much of Shehan's work is obviously based on natural scenes here in the United States, a few are based on her travels abroad, including a graceful window scene called, "Purple Flowers," taken from a photo she snapped while touring Europe.
Of her switch from watercolor to pastels, Shehan is obviously passionate about this turn of events in her work. "My fingers stick to the pastel dust and it just feels great," she said. "They're so tactile and loose. I feel like it's easy to express myself and create drama."
For more information on Shehan and her work, visit www.sueshehan.com. Framed original works (which typically range in price from $250 to $600), prints, called giclees (which start at $35), and note cards are available for purchase by contacting the artist through the website.