Athletes with disabilities make tremendous strides
May 1, 2014
/
/
Comments Off

on Athletes with disabilities make tremendous strides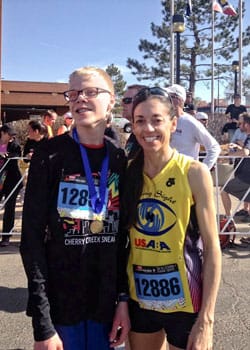 George Waggett's participation in a running group through Achilles International has greatly increased his confidence. Aside from improving his running endurance, Waggett has enjoyed the support of other athletes with various disabilities. Waggett competed in the Cherry Creek Sneak 5K alongside Deb Conley, the president and founder of Lending Sight.
By Amy Shanahan; photo courtesy of Samantha Waggett

If you talk to anyone who attends Rock Canyon High School, it's a pretty sure bet that they know George Waggett. Waggett is a popular sophomore who enjoys his friends and family and was a part of the sophomore homecoming royalty this past fall. Despite being born with a very rare genetic disorder that affects his motor movements, including his speech, vision, and mobility, Waggett is also an athlete.
Waggett, along with many others with disabilities throughout the Denver area, is part of a running group sponsored by Achilles International and Lending Sight. Achilles International is a non-profit organization that provides athletes with disabilities a community of support in order to promote achievement and self esteem. Lending Sight is also a non-profit organization that pairs sighted runners with visually-impaired runners to train and participate in races.
Waggett meets with his running group every Monday at 6 p.m. at the recreation center in Washington Park in Denver. Approximately 25 to 45 athletes of varying ages and abilities regularly participate, along with 15 to 25 volunteers who may run or walk with the athletes, provide rides home or care for the guide dogs that belong to many of the athletes.
The environment that is provided by the volunteers is completely supportive with the overall goal being to encourage those with disabilities to participate in being active at their own comfort level.
Since joining the group in 2013, Waggett has improved his confidence and skills and has competed in the Cherry Creek Sneak 5K and the Hot Chocolate 5K run/walk. Waggett's mom Samantha remarked, "Completing both of these races was a huge accomplishment for George, and would not have been achievable without all the support of the event organizers and Achilles International."
Following the Monday meetings, many members of the running group socialize and often volunteers and athletes pair up to participate in events outside of the group. For Waggett, his participation in the group has been life changing. "My favorite part of participating in the group is that I feel comfortable and can go out and have fun at my own pace. I can take my time and I don't have to do anything in a special way … I can just be myself."
New members are always welcome on Monday evenings, and Achilles International is continually looking for more volunteers to serve as guides. For more information about the group, visit their Facebook Page at www.facebook.com/groups/achillescolorado/ or visit
www.meetup.com/coloradoruns.
To learn more about Achilles International, please visit
www.AchillesInternational.org.