Bali: put it on the bucket list!
April 1, 2019
/
/
Comments Off

on Bali: put it on the bucket list!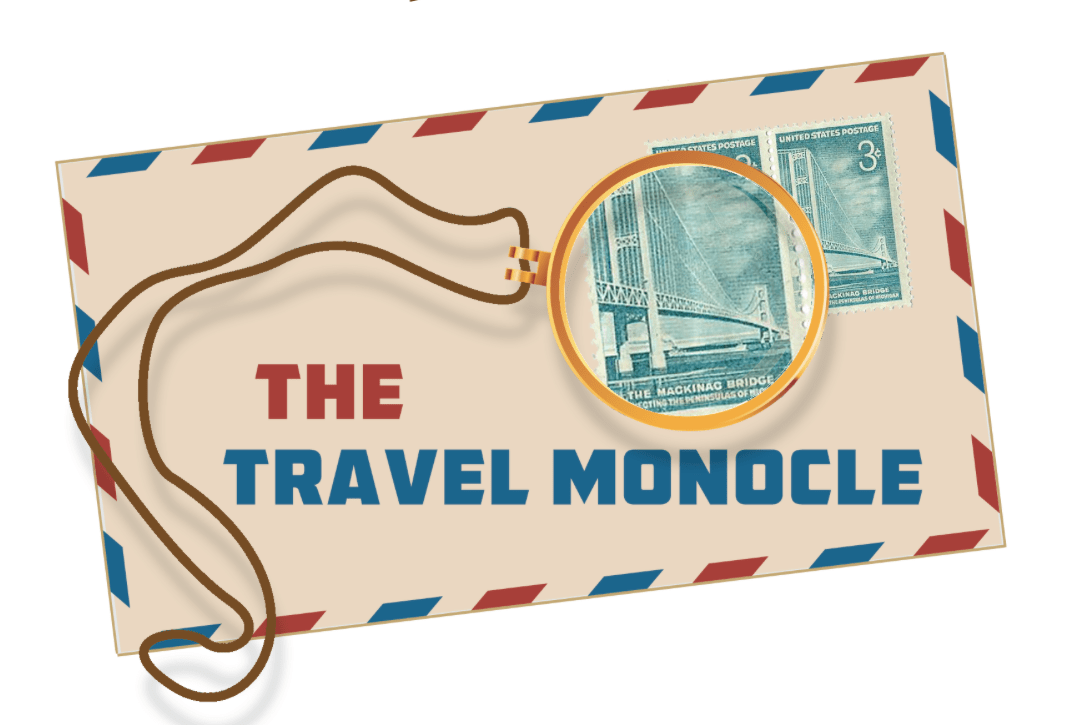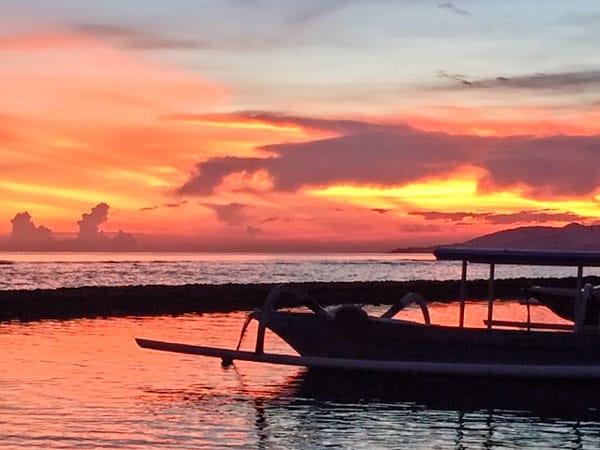 At top, Balinese jukung, traditional wooden fishing boats with bamboo outriggers.
Candidasa sunset, partial jukung view.
Article and photos by Joe Gschwendtner
We finally got around to it. Bali. Countless Australians had been telling us for years it was a world-class paradise. Barb and I investigated personally in February.
To control expenses and minimize crowds, we chose the rainy season. Exquisite four- and five-star accommodations were at bargain basement prices. The best restaurants didn't require reservations. And, not a drop of rain fell; talk about luck!
Roughly 9,000 miles away, airfare will be the biggest hunk of your travel budget. Somewhere in your itinerary is a 12 hour plus flight. Gird yourself!
Bali is paradise. We tasted three parts of it: Ubud, its spiritual center, Candidasa on the east coast, a laid back area suitable for those in the "mature" crowd, and Sanur, a refined suburb of Denpasar on the eastern shore, ideal for us.
One cannot help but quietly appreciate the Balinese. The island is more than 85 percent Hindu, theirs a demanding Hindu/Buddhism variant. The self-control and tranquility required of adherents permeates every facet of life. Daily offerings (canang) to good spirits come in banana leaf baskets with flowers, food and incense. The bad spirits are to be mollified and eventually, exorcised. The rigors of this religion vastly benefit tourism. Barb and I have never been better served in our entire lives. Were hospitality executives able to use Bali as a bottomless labor pool, complaints about service worldwide would drop to new lows.
Costs. In low season, we were staying in villas for as low as $55/night – including a private swimming pool, complimentary breakfast and afternoon tea. When we indulged at $100/night, we wound up in an opulent walled 1,600 square-foot villa with three pools, two for us and one for the fish.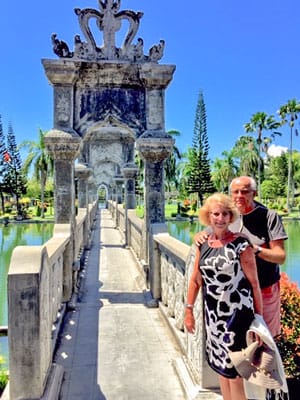 Joe, the author, and his wife Barb at Floating Palace, Bugbug, Indonesia.
Standards. At every level, we were astonished at levels of cleanliness, comfort, and hospitality. The island of 4.5 million lives to serve. Menus were always in English, a second language, and waitstaff almost always understood "gluten free." Wow! Already enthralled with Asian food, I found the variations in Bali endless. Dutch culinary influences remain (until 1949 Indonesia was part of the Dutch East Indies) and one must always be aware of the insidious pepper.
Attractions. If you like shopping, knock yourself out. Flowers are everywhere; it is botanical heaven. Glorious temples abound. With no disrespect intended, one can at some point become inured. We are hikers. We did ridge lines, rice paddies, beach perimeters, and yes, retail hikes. Shopping puts miles on shoe leather. Beaches are okay, but exceptional sea experiences await the snorkeler, scuba diver and surfer. Non-urban parts of the island are remarkably colorful with terraced rice paddies especially appealing.
Nature of the vacation. Don't go unless you are capable of ratcheting down – sipping coffee, tea, or remarkable smoothies at a table while the world parades by. There's also yoga, massage, exotic fruits and sea breezes. This is your Eat Pray Love vacation. Early on, we "took tea" every day. It set the tone. If the real self hasn't yet shown up in your life, this is the perfect place to coax it out.