Beating records, winning meets and having fun: The Castle Crocs had a successful summer of swimming
August 1, 2019
/
/
Comments Off

on Beating records, winning meets and having fun: The Castle Crocs had a successful summer of swimming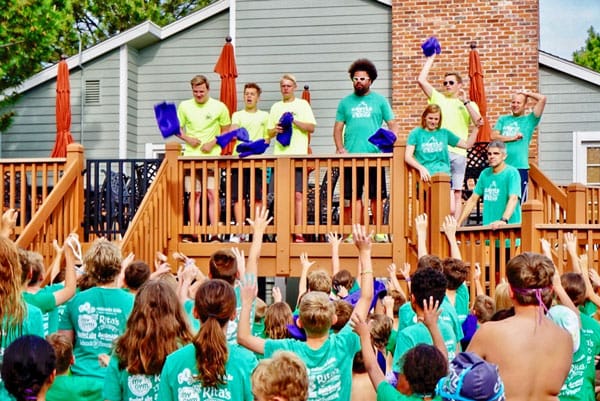 Each Friday, the Castle Crocs coaches held a team meeting and awarded a swimmer of the week from each age group, going over logistics for the upcoming meet and throwing out Crocs merchandise.

By Carin R. Kirkegaard; photos courtesy of Mira Brand and Camille Pocock
The Castle Crocs summer swim team has brought the love of swimming and community to Castle Pines families for the past 14 summers. Once again, children spent summer mornings perfecting their strokes and getting faster in the pool. The team ended their regular season with three wins and only one loss. In addition, 31 swimmers earned a spot to represent the Crocs at the Mountain Hi Swim League All Stars Meet in July.
Getting faster is always a goal in the swimming world. In order to attain that goal, a swimmer must also get better. This summer, the goal for the Crocs was stroke development. The Castle Crocs Board of Directors reprioritized the team's budget and added more coaching staff to help achieve this goal and accommodate the diverse needs of a swim team with just under 200 swimmers.
With two head coaches, six assistant coaches, eight junior coaches and four mini crocs coaches, the addition proved a success. From the first meet to the second, the number of disqualifications was cut in half.
"The progress in just eight weeks is amazing," said Tracey Ray, Castle Crocs board president.
Swimming the strokes correctly also meant many swimmers improved their personal best swim times. Time improvements were rewarded with a free Italian ice from Rita's Italian Ice and Frozen Custard in Castle Rock when a swimmer beat their own time in a race.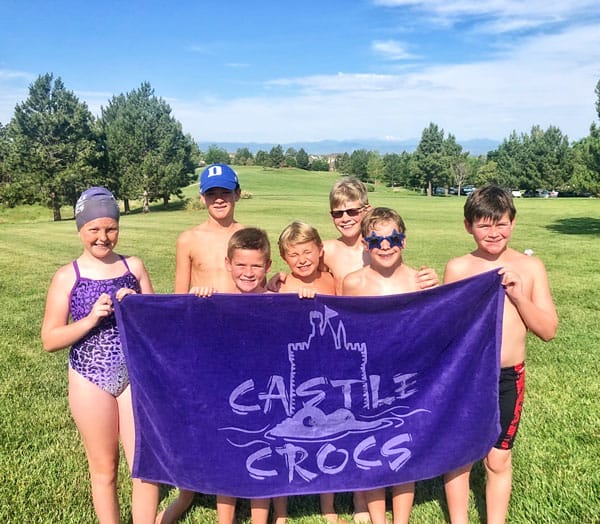 Showing their Croc pride are Maggie Butler, Andrew Abner, Charlie Abner, Trevor Christensen, Jake Pocock, Ty Pocock and Liam Abner.

The summer wasn't all work in the water. The team held its annual coaches pancake breakfast. There were huge capture the flag competitions and plenty of dancing to song requests at the home swim meets. The culmination of the season ended with a private party held at Pirates Cove where awards and accolades were handed out to end another season.
Ray continued, "What I love most about the team is that it promotes healthy kids, a healthy lifestyle and a sense of community."
Comprised solely of swimmers from the City of Castle Pines, the team utilizes two 25 meter swimming pools for practices and swim meets located in the city's private home owners associations. "We are incredibly grateful to the residents of HOA2 and CPN II for allowing our kids and team to utilize their facilities to become safer and stronger swimmers," stated the Castle Crocs Board of Directors.