Berry Sworn in as New City Clerk
February 1, 2009
/
/
Comments Off

on Berry Sworn in as New City Clerk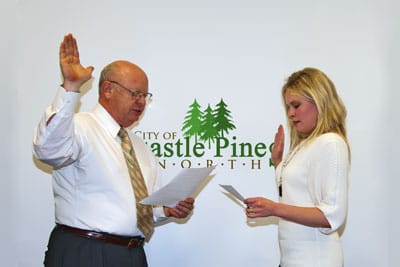 Janie Berry (right) is sworn in by Douglas County Clerk Jack Arrowsmith in a ceremony in January. Berry was appointed as the new clerk for Castle Pines North late last year.
(photo by Tim Gamble)

by Lisa Crockett
In late 2008, Castle Pines North (CPN) city council members approved the appointment of a new city clerk, Janie Berry. Berry takes the place of CPN's previous clerk Carl Kollmar, who left the position to take a post with CH2M HILL OMI as deputy city clerk.
Berry was sworn in by the Douglas County clerk in January.
"Giving back and being involved with the community is crucial to our community's success," said Berry. As our new city grows and evolves, I'm excited to be a part of it and to serve the citizens of Castle Pines North."
Berry and her family have lived in CPN for five years. She and her husband chose CPN because it offered a small-town atmosphere but still offered access to a larger metro area.
"This community really has the best of both worlds," said Berry. "We feel as though we are in a small enough community where we know our neighbors but yet have the amazing luxury to travel not more than 20 miles and experience what the 'big city' life has to offer."
Berry currently works as a project coordinator for Elavon, a subsidiary of U.S. Bancorp that provides payment processing services.
For more information about the City of Castle Pines North, visit www.cpngov.com.