Bird-watching haven close to home
March 1, 2017
/
/
Comments Off

on Bird-watching haven close to home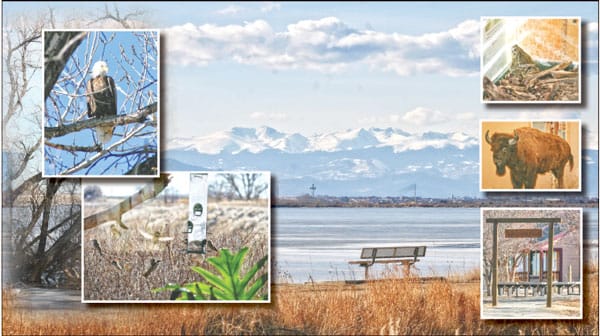 Be ready to take in some breathtaking views of the Front Range and experience some exceptional bird watching when you visit Barr Lake State Park in Adams County. More than 350 species of birds have been spotted at Barr Lake, which is home to the Rocky Mountain Bird Observatory headquarters. Barr Lake also hosts an annual Bald Eagle Festival each year in February where many bald eagles can be seen around the lake after migrating to Colorado for the winter.

Article and photos by Kathy Fallert
If you have ever wondered what is north on E-470 past Denver International Airport, there is a stop that is worth a little extra driving; Barr Lake State Park in Brighton. About a 45-minute drive from Castle Pines, Barr Lake is very scenic and has its share of unique wildlife especially for bird watchers. In fact, more than 350 species of birds have been spotted around the lake.
February 4 was the 5th annual Bald Eagle Festival at Barr Lake. Many bald eagles migrate to Colorado for the winter and one pair nests and raises its young every year at Barr Lake. Numerous other eagles can be seen around the lake this time of year as well. The festival included a live raptor presentation, crafts, building a life-sized bald eagle nest with a naturalist, and a three-mile hike.
Barr Lake has 12 miles of trails, including an 8.8-mile trail that circles the entire lake. Striking views of the Rocky Mountains are plentiful beyond the lake, and there are many outdoor grills with shade structures available for picnicking. There is also a small playground for the kids to enjoy.
The lake has a boat ramp; fishing and boating are allowed in the northern half of the park. Fish that inhabit the waters include rainbow trout, catfish, bass, walleye and bluegill. The southern half is a wildlife refuge with several viewing stations and a nature center.
The nature center has a live rabbit, some toads, a stuffed bison and some wildlife puppets for the kids. There is a couch situated for viewing bird feeders at which a multitude of birds enjoy dining. To learn more about Barr Lake, visit www.cpw.state.co.us/placestogo/parks/barrlake.