BRE Fifth Grade Show Rocks the '80s
May 1, 2022
/
/
Comments Off

on BRE Fifth Grade Show Rocks the '80s
The annual fifth grade show at Buffalo Ridge Elementary (BRE) was back this year, and it was worth the wait. Fifth grade students rocked leg warmers, neon and crimped hair for performances of their 1980s montage: '80s Blast to the Past.
BRE staff and parents grooved in their seats while the kids sang rock and pop standards from years past. As students brainstormed theme ideas earlier in the year, music from the 1980s had the most ideas to work with. Music teacher Cathy Deneault then created a show around their suggestions.
The kids started learning all the classic songs in January. Songs by Journey, Eurythmics, Michael Jackson, Bon Jovi, The Rolling Stones and Kenny Loggins were some of the covers the kids studied. One of the "favorites to sing was the mashup of Start Me Up and Livin' on a Prayer – they sang that one with their whole hearts!" exclaimed Deneault. After four months of practice, the kids nailed the performances, one for an all-school assembly and another in the evening for parents.
These fifth graders are creative. They came up with art to display on performance night. The Photoshop project superimposed the student's faces onto album cover art from the '80s. The project was fairly involved and took a week to complete. After choosing an album cover, students took photo shoots with one another. They tried to recreate head positions from the original album covers. Next, they uploaded their faces and adjusted lighting and color to try to match skin tones. "It was a fun project, and it was 100% their idea," said Tim Ryckman, art teacher. Lots of laughter emanated from the art room during the project.
Students also chose the movements they participated in during the show. "The kids got to pick one routine they wanted to try after we did a few days of stations and learning our options," said PE teacher Kelli Weinreich. "Each group had creative freedom to make their routine, I just assigned the song or time limit if it was a longer mashup. The fifth graders really created all the rest!"
Some movement routines involved jumping rope, pogo sticks and balls, gymnastic floor flips, ball walking, hula-hoops, juggling, diabolo yoyos and moonwalking. The students especially loved learning the Footloose and Thriller dances.
Deneault admitted to crying happy tears "seeing how proud the kids were, and to see them excited to share this huge performance they'd created. They put their hearts and souls into their performances." And the feedback from BRE staff: "Best show ever!"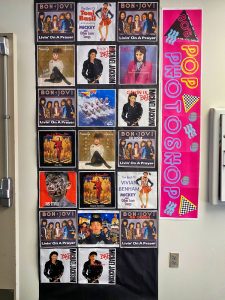 Article and photos by Celeste McNeil