BRE girls whip up some eggs for PBS
March 1, 2017
/
/
Comments Off

on BRE girls whip up some eggs for PBS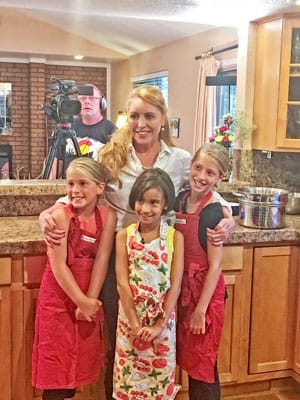 (Pictured from left to right) BRE students Olivia Bruns, Brooke Potter and Grace Bruns helped Dr. Claudia Folska whip up some egg salad on the "Cooking in the Dark" show.

By Kathy Fallert; photo courtesy of Nancy Potter
This winter three Buffalo Ridge Elementary (BRE) students participated on the Rocky Mountain PBS show Cooking in the Dark hosted by Dr. Claudia Folska. Folska serves at the director of RTD and was the first blind woman elected to public office in Colorado.
Cooking in the Dark focuses on ecology and sustainability. The name of the show refers not only to Folska's own blindness but to the fact that most of us are "cooking in the dark" if we do not know where our ingredients come from or how they are produced. On her show Folska also teaches chef's how to literally cook in the dark by having them wear blindfolds.
BRE parent, Brittny Lydick, works for the owner of the Cooking in the Dark show. Since the show incorporates education, Lydick contacted BRE teacher Kristin Duran knowing her own son had learned so much about chickens and eggs last year at BRE. The school has their own garden and had some resident chickens in the spring. The kindergarten classes studied chickens and eggs and got to watch some eggs hatch in classroom incubators. A decision was made to create a show using eggs.
Duran asked students Brooke Potter and sisters Grace and Olivia Bruns to help out on the show to whip up some egg salad with Folska. The students boiled, peeled, and diced the eggs then mixed in some mayo and seasonings for the final product which they all got to taste. In the process Folska talked to the girls about environmental issues concerning food production and the importance of sustainability. Brooke's mom Nancy Potter commented, "It was a great experience for the girls – a once in a life time opportunity – and Claudia was amazing! She really took time with the kids to talk about her blindness and where our food comes from around the state."
Aspiring chefs at home, Potter and the Bruns sisters can frequently be found in the kitchen making weekend breakfast, prepping vegetables or baking goodies. Olivia Bruns reflected on her experience with Folska, "It was so great to see that no matter what you face in life, if your desire to achieve something is great enough you will succeed."
To find out more about Cooking in the Dark, visit the Rocky Mountain PBS website at www.rmpbs.org or to watch the egg episode go to video.rmpbs.org/video/2365935850/. The BRE students are in the latter portion of the show.