BRE Health Team 4 color up the playground
June 1, 2017
/
/
Comments Off

on BRE Health Team 4 color up the playground
BRE fourth-grade Health Team 4 (left to right) front row: Emmet D.,
Grace K., Bella W., Joey S., Grant R. and Kyle D.; Second row: Mia W.,
Kristie V., Carson S., Blake H., Georgie H. and Olivia B.; Third row:
Maddie K., Andrew A., Emma T., Morgan B. and Palmer W.; Back row: Mrs.
Gutierrez, Ms. Montgomery, Mrs. Anstett, Mrs. Meibos; Not pictured: Ava
D., Grant C., Hayden H., Simon H. and Tanner S.


Article and photos by Kathy Fallert; photo courtesy of Corin Meibos
Health Team 4 is a group of 22 Buffalo Ridge Elementary (BRE) fourth-grade students who promote healthy lifestyles at the school. The group met before school every other Friday to come up with healthy ideas to share with their fellow students.
Health Team 4 led dance warm ups at the school's annual 5k Rock Slide, taught dance moves at recess, held a school-wide healthy snack challenge, shared stress reliever bottles with other classes, and, most recently, spruced up the school's playground by painting some bright colors on the four-square courts. The team's goal is to promote health and wellness by encouraging students to get 60 minutes of physical activity each day and to eat healthy.
Fourth grade parent Nicolette Richardson said, "A fun activity that Grant liked best about the Health Team year was when they learned about healthy snacks versus unhealthy snacks. They cut out food clippings from a magazine and used a board that was grouped into healthy versus unhealthy food items. They then taped the magazine clipping in the category according to where it belongs. For example, Grant found steak and that fit in the healthy category and then he found dip and dots fit in unhealthy area. It was a fun activity!"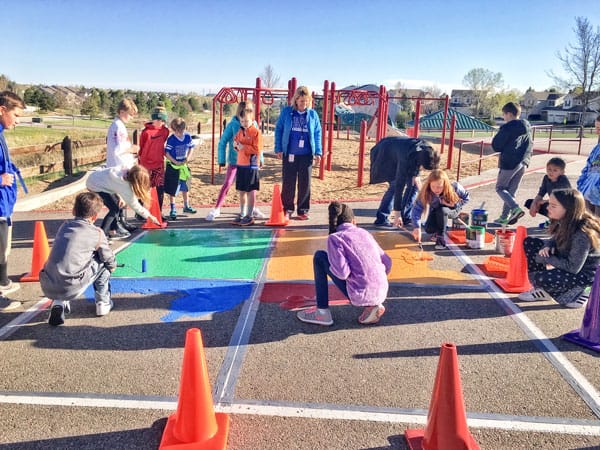 Health Team 4 got their paint cans out as they helped brighten up the playground on Friday, April 28 during their bi-monthly meeting.

HT4 sponsors this year were P.E. teacher Ronda Guitterrez, front office clerk Corin Meibos, fourth grade teacher Shantel Montgomery, and kitchen manager Kari Anstett. HT4 member Andrew A. reflected, "We helped Mrs. Gutierrez organize jump rope for heart awards. It was fun, and it was a good leadership project."
Grant C., another HT4 participant, commented about painting the playground, "I liked it a lot! It felt like I was helping the school, and it was a fun activity!" In addition to painting the playground, next year's HT4 will carry the torch and find ways to bring more fun and more color to their playground to encourage good health for their classmates.