BRE second graders Box Top their way up the sledding hill
March 1, 2016
/
/
Comments Off

on BRE second graders Box Top their way up the sledding hill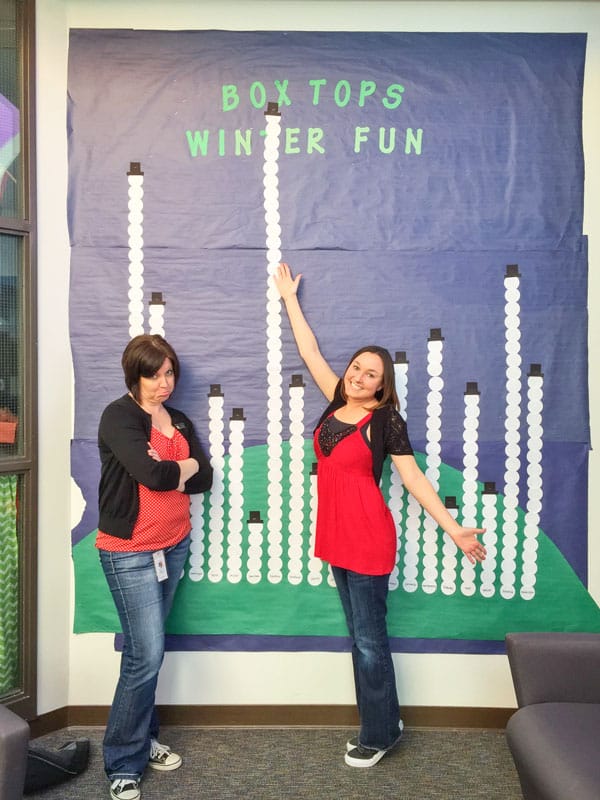 Office clerk and health assistant Corin Meibos (left) was sadly defeated in the BRE Box Top challenge by the second grade class of Jocelyn Hawkins (right).

By Kathy Fallert; photos courtesy of Valerie Miller and Jocelyn Hawkins
Corin Meibos, office clerk and health assistant at Buffalo Ridge Elementary (BRE) went a little Box Top crazy this year and started collecting Box Tops from family and friends including her teacher from grade school. The list expanded until Meibos was collecting Box Tops from all over the world. She decided to form a group called the Front Office Misfits (FOM) and challenge the students at BRE to see who could collect the most Box Tops.
Any class that was able to top the FOM's number of Box Tops would be treated to a sledding party on the school playground. Jocelyn Hawkins' second grade class claimed the victory and enjoyed their sledding party on February 11.
Meibos said, "A rogue team was created at Buffalo Ridge known as the 'Front Office Misfits,' consisting of all staff not assigned to a grade level classroom for the Spring Box Top collection. We enjoyed the heated competition by hearing various students tell us 'game on' as they walked by our office or doing the two fingers to the eyes and then back at us as if they were watching us. I even walked around the school pulling a sled and stopped into the classrooms to show students that our team was serious about winning the coveted sledding party prize for top class/team. Sadly, we had to concede to Mrs. Hawkins' second grade winning class."
Hawkins remarked, "Students wanted to bring in more and more Box Tops for the competition, but kept saying 'I just don't get it. How do people eat that much cereal?' After realizing that students did not know what items contained Box Tops, we had a discussion on how most everyday items contain them on the packaging, not just cereal boxes. From there, students began hunting through their pantries collecting more and more each night. The office and our classroom were neck and neck for the winning spot. In the end, the students pulled through and won the Box Top war! With all of their snow gear and in the 68 degree weather, the students had the time of their lives sledding and enjoying each other's company."
Meibos added, "We would love to have the community's support. If you have a collection of Box Tops looking for a home, please consider donating to FOM at Buffalo Ridge Elementary at any time. We have a collection baggie always ready to be added to. You may drop them off personally or you may mail them to: Front Office Misfits, c/o Buffalo Ridge Elementary, 7075 Shoreham Drive, Castle Pines, CO 80108.
So, GAME ON!"