Buffalo Ridge students battle with books
March 1, 2013
/
/
Comments Off

on Buffalo Ridge students battle with books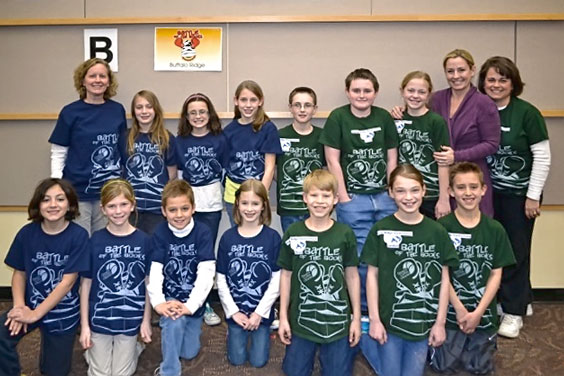 BRE Battle of the Books students get ready to take part in their second battle on February 12 against Flagstone Elementary.
By Sean W., BRE Ridgeline staff reporter; photo courtesy of Laurie Jacobs
Battle of the Books is a national reading program to inspire kids to read and have fun while competing against other kids. Buffalo Ridge Elementary School (BRE) students are taking part in the battle for the first time ever with two teams, "Five Guys and Two Fries" (fifth graders) and "Buffalo Book Blasters" (third and fourth graders).
Battle of the Books is an academic sport for grades third through twelfth. "In the actual battles, two teams go against each other and you have to answer questions about books and then you get points for correct answers," said BRE fifth grader, Ryan T.
The teams are led by parent volunteers, Angela Carlson and Laurie Jacobs. Carlson leads the fifth grade team and Jacobs heads up the younger team.
Some of the favorite books on the reading list are "War Horse" by Michael Morpurgo, "We the Children" by Andrew Clements, and "Cricket in Time Square" by George Selden. "My favorite that I have read so far is 'War Horse.' It's about a horse in World War I that tries to find his owner again," said Ryan T.
The BRE teams competed against Castle Rock, Flagstone, Renaissance, and Soaring Hawk elementary schools on February 4, 12, 19, 25 and 26 at Phillip S. Miller Library. In the first battle against Castle Rock, the Buffalo Book Blasters won 51 to 44 and Five Guys and Two Fries lost by just a smidge with a score of 45 to 48. "I was very impressed with their team work after the first battle, so we are on the right path!" said Jacobs.
In March, the top teams will advance to quarter, semi and branch finals leading up to the biggest battle of all, the District Battle on March 20. The BRE teams hope to battle until the bitter end. "Win or lose, this first year of Battle of the Books at BRE has been a great learning experience for everyone involved," shared Jacobs.
To learn more about Battle of the Books, visit www.battleofthebooks.org.