Buffalo Ridge welcomes a new principal
August 1, 2015
/
/
Comments Off

on Buffalo Ridge welcomes a new principal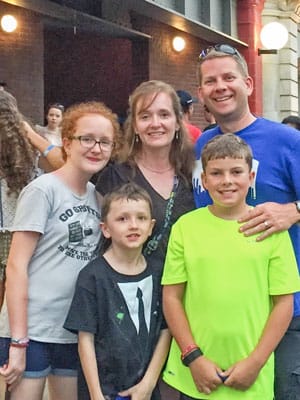 BRE's new principal, John Veit, and his family on a summer vacation to Universal Studios in Florida before starting the new school year.
By Lynne Marsala Basche; photo courtesy of John Veit
A new school year always brings changes and excitement, and the halls of Buffalo Ridge Elementary school (BRE) are no exception. In addition to the usual bustle of setting up classrooms, training staff and getting the school ready, BRE is eager to welcome a new principal, John Veit, for the 2015-2016 school year.
Veit has been in the Douglas County School District since 1999 and comes to BRE from Rocky Heights Middle School (RHMS) where he was the assistant principal for three years. Veit received his Bachelor of Arts in Education from Arizona State University, his Masters in Technology in Education from Leslie University, and completed his Education Specialist and Principal Licensure Program at the University of Northern Colorado.
Veit has strong connections throughout the community and district and looks forward to getting to know BRE's staff, kids and parents. Veit believes that students should grow beyond proficiency, and teachers should educate the whole child, keeping in mind that not every student learns the same way.
When asked what excites him about the upcoming school year, Veit said he is anxious to see that "aha" moment and general level of excitement in kids who are enthusiastic and have a strong desire to learn, something he believes wanes in students as they progress through middle and high school.
"My passion is for life experiences. Whether that's a great day riding your bike, playing with friends, going on vacation, going to a sporting event, or dinner with friends. That definitely includes a great school experience where you can do something impactful and memorable. We all have our times from school that we look back on and think, 'I remember when I was in school…' I want those stories to be positive and memorable for our students," said Veit.
Veit loves to be outdoors biking, running or watching baseball, as well as helping on his children's teams. He and his wife Katie Breithart have three children, Abby, Alex and Toby (pictured above).
BRE's student population of roughly 500 is sure to feel like a small community compared to RHMS and its approximately 1,500 students, and that is just fine with Veit and the environment he hopes to cultivate at BRE.