"Carnival for the Cure" raises thousands
August 1, 2009
/
/
Comments Off

on "Carnival for the Cure" raises thousands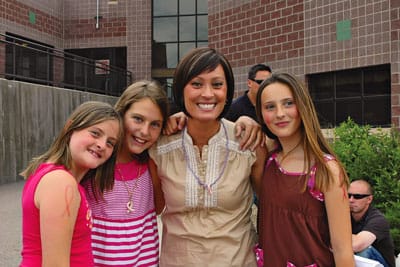 Fifth-grade teacher Jesica Harrington and some of her students at Timber Trail Elementary's "Carnival for the Cure." All proceeds from the event went to benefit Harrington's family. Harrington has been battling an aggressive form of breast cancer for the last year.
Article and photo by Lisa Crockett
A school carnival is a long-standing tradition for many elementary schools. Money raised can provide a variety of extras for a school – band instruments, computers, new chalkboards. But Timber Trail Elementary (TTE) stepped away from that tradition this year, instead deciding that the annual carnival should be held for another worthy cause.
Fifth grade teacher Jesica Harrington has been waging an arduous battle with breast cancer for the last year. Because she was pregnant, treating her cancer had to be carefully balanced with the safety of her growing child. On top of those difficulties, Harrington is also meeting the challenges of raising a young daughter and helping to support her family.
Friend and fellow fifth-grade teacher, Tony Greene had earlier organized a mass head-shaving event for the fifth-grade boys to show their support for Mrs. Harrington, but he wanted to do more. "At first we decided to simply hold a silent auction, but eventually we decided it would be better to have an event for the whole family, not just the adults."
The Timber Trail Education Association (TTE's PTA) got involved and rallied support from all TTE families.
"In addition to our moral and spiritual support, our support must extend to the financial," said TTE parent Christine Maciolek in a letter soliciting participation from the school community. "There are many ways cancer takes its ugly toll."
And thus, the "Carnival for the Cure" as it came to be known, was born. Classroom teachers donated time to organize games and activities for the kids, parents donated goods and services for auction and coordinated a hot-dog feed for the more than 1,000 attendees. Several classrooms joined forces and assembled large and attractive gift baskets to be sold. Solid Life Christian Center sold cotton candy and other concessions to raise funds, and jewelry and artwork could be made to order on the spot to further add to the event's revenue.
First and second grade students provided entertainment, singing songs they prepared with choir teacher Cindy Berndt. The music was sung in Mrs. Harrington's honor, with a special seat reserved for her and her family in the front row.
"I am just overwhelmed at all this," said Harrington. "There are no words to express how my husband and I feel about all this. Thank you simply seems inadequate, but we are just so grateful."
Harrington, whose baby boy, Gunner, arrived safe and healthy in May, is now in the midst of an aggressive chemotherapy regimen. After some time off, she returned to the classroom in July and is looking ahead.
"I've missed being in the classroom and being with my co-workers. It's good to get back."
The carnival raised more than $25,000. All proceeds will go to benefit the Harrington family.