Castle Crocs Finish Swim Season 3-2
August 1, 2007
/
/
Comments Off

on Castle Crocs Finish Swim Season 3-2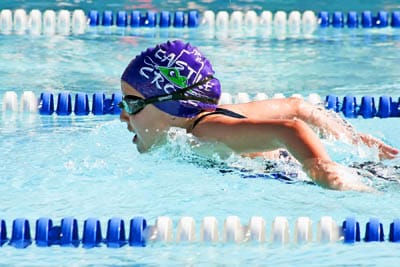 Article submitted by the Castle Crocs Swim Team
Castle Pines North children spent the hot summer days working on swim stroke development, connecting with neighborhood friends, and improving times for the reward of a Castle Cones ice cream cone. Having competed in five dual meets, the Crocs were proud to bring home three wins. In addition, the team sent qualifying swimmers to the championship meet held in Castle Pines Village. Those swimmers with exceptional cut-off times also had a chance to compete in the All Star Meet.
Just one year after its inaugural season, the Crocs swim team has grown in both numbers and experience over the summer. There was an impressive turn out of swimmers at sign ups this past spring. More than 130 swimmers showed up and a wait list was even used once the team was filled.
"We found the Castle Crocs Swim Team to be very helpful in developing our daughter's swimming skills, as well as providing a summer full of fun and exercise. The swim meets had just the right amount of friendly competition to motivate our daughter to work hard at practice," said Ezra and Kristen Vance, Crocs parents.
"I thought the coaches were really good and gave enough personal instruction to help us improve at each meet. My swimming, and all my friends' swimming, has improved," continued their daughter Alex Vance, Crocs swimmer.
"Such a strong turn out shows that our community really supports the sport and the team's overall objective of creating a fun, healthy, recreational experience that promotes the concepts of fair play, good sportsmanship and team effort," said Sandy Koerner, Crocs Board Member.
"As a newly formed team with many swimmers just starting out, the Croc's Board of Directors looked for a program that would help teach the fundamentals of swimming as the first priority, said Kathleen Steffe, Crocs board member. "We look at our team as a developmental program with an emphasis on teaching and learning first." As a competitive swimmer in college, and now a master's swimmer and triathlete, Steffe knows first hand that it's all about training smarter not harder. Also, that good technique will minimize injuries and make competing in the sport easier. "Swimming is such a technique based sport that it is really critical to nail the basics before reinforcing bad habits lap after lap," continues Steffe.
Head Coach, Kevin Millerick fit the bill for the Crocs. Millerick brought the technique of Total Immersion to the Crocs. This practice of teaching great technique before allowing swimmers to go harder, longer or faster is employed by the best coaches and swimmers in the world.
The swim instruction part breaks each stroke into a series of easy-to-follow, common sense drills. Each drill has "focal points", "mini-skills" or small, "bite size" pieces to concentrate on. By learning each drill, including the "focal points", a swimmer ends up swimming smarter, with better technique, more ease and speed. Eventually, when a swimmer puts all of the drills together, the result is both fast and beautiful to watch.
The philosophy comes into play with the swimmers being ultimately responsible for their own swimming development. "We show and teach them, not just tell them, what they need to do to swim smarter, but they are the ones that take ownership of their swimming by listening, thinking and trying hard all the time," said Millerick.
Each day the coaches used focal point swimming to help the kids change some aspects of their strokes. Mostly, though, the concentration was on the fundamentals that can make a big difference, especially in shorter races. Unlike the individual strokes, where some kids struggle while trying to "do it all", these fundamentals make swimming doable for every kid, and are skills that they will be able to use for the rest of their swimming careers.
This fall, Millerick will begin offering this technique at Swimtech, an endless pool facility. For more information, contact Millerick at Contact by email.
The Crocs would like to extend their gratitude to the residents of both HOA1 and HOA2 for supporting CPN's neighborhood kids and allowing the use of their pools for practices, stroke clinics and meets. Without pool time, the community would not be able to offer a swim team to its residents. Thanks are also extended to Castle Cones for providing the incentive of ice cream to all the swimmers who improved swim times over the summer.
Watch for sign ups next April both through The Connection as well as the Castle Crocs website, www.castlecrocs.com. See the complete Castle Crocs photo album at www.cpnhoa.org.